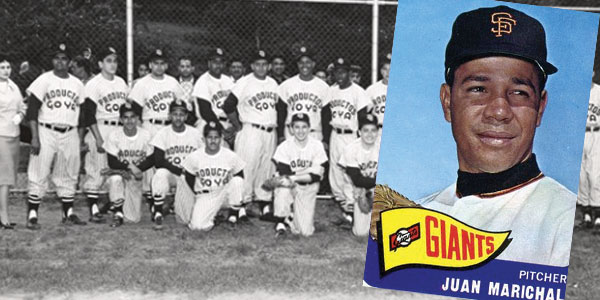 Los oficiales del Museo Nacional de Historia Americana Smithsonian están en Kansas City para unos eventos especiales de recopilación el 12 y 13 de agosto. Los eventos son parte de una iniciativa a nivel nacional para registrar la presencia vivida e histórica de los hispanos en el béisbol. El propósito del proyecto, "Los Latinos y el Béisbol: en los Barrios y en las Grandes Ligas", con una fecha de finalización que se calcula para el año 2020, es la creación de una nueva exposición del museo Smithsonian celebrando la gloriosa historia del béisbol de los hispanoamericanos.
El museo nacional está interesado en historias y objetos que "reflejen la influencia social y cultural del béisbol en las comunidades latinas". Eso podría incluir equipo de béisbol y fotografías, carteles de estadios, objetos de recuerdo de juegos, carteles de vendedores de comida, películas caseras y más. Los donadores pueden escoger en regalar los objetos al Museo de Kansas City o al Smithsonian, o prestarle los objetos a uno de ellos. La papelería – documentos legalizados y acuerdos de préstamos – están en inglés, pero habrá traductores en los eventos de recopilación el fin de semana, dijeron los oficiales del museo. La programación de los eventos es abierto para el público sin costo, pero se necesitan reservaciones para algunas de las actividades.
La alineación de latinos y béisbol incluyen una mesa redonda por parte de los autores, museólogos y expertos en la cultura latina, y el lanzador venezolano del Salón de la Fama, Diego Seguí; recepciones; libros autografiados, viajes en autobús a barrios locales mexicano americanos; concierto al aire libre y homenaje y exhibición de juegos de softbol de rápido lanzamiento. Para ver el programa completo y hacer reservaciones, visite el website del museo en kansascitymuseum.org.  Desde el menú desplegable bajo "programs & events," (programas y eventos) haga clic en "Collecting Events for 'Latinos and Baseball: In the Barrios and the Big Leagues.'" (Eventos de coleccionismo para "latinos y el béisbol: en los barrios y las grandes ligas").
El espacio en algunos de los eventos es limitado, así que los oficiales del museo exhortan al público a que hagan reservaciones con tiempo.
El Museo de Kansas City es una de las 10 organizaciones en Estados Unidos seleccionada para asociarse en la iniciativa de recopilación de varios años. La invitación llegó después de que L. Steven Velásquez, director asociado del museo en el Museo de Historia Americana Smithsonian visitó la exposición del museo de Kansas City en el 2015, "Ligas Mexicano Americanas de Softbol de Lanzamiento Rápido: Conectando las Comunidades por las Líneas Estatales". Gene T. Chávez, quien dirigió la exposición, fue invitado al museo Smithsonian el otoño pasado y  propuso a Kansas City como un posible socio en la iniciativa de recopilación Latinos y el Béisbol. Después de calificar como socio con el museo Smithsonian, el museo comisionó a Chávez para que organizara el programa de recopilación.
"Es una historia jamás contada y a menos que la hagamos conocer, no se conocerá", dijo Chávez, a quien con frecuencia se le pregunta en otras partes del país sobre la presencia de los latinos en Kansas City y la región central.
La presencia de latinos en Kansas y Missouri es más antigua que cualquiera de los estados, mencionó.
"Yo le digo a la gente que hemos estado aquí desde que el explorador Coronado estuvo aquí en 1540", dijo Chávez. Su interés especial es el papel latino en el desarrollo de Estados Unidos, especialmente en esta región y la pasión perdurable de los inmigrantes mexicanos y mexicano americanos por el softbol y el béisbol. La correlación peculiar de los hispanos y el béisbol nació mucho antes de que el juego fuera "pasatiempo nacional" y se convirtiera en un punto principal cohesivo y nexo cultural para las comunidades mexicano americanas.
Actualmente, los hispanos son una imagen decisiva del deporte. El mes pasado, más de un tercio de los jugadores que son seleccionados para el Juego de Estrellas 87º de las Grandes Ligas en San Diego eran hispanos. Un tercio del equipo de los Royals de Kansas City es hispano. De manera similar, cerca de un tercio — el 28 por ciento- de los 750 jugadores MLB en los equipos en el horario de apertura eran latinoamericanos, lo reportó el mes pasado CBS Sports.
La iniciativa de recopilación es continua. Cualquier persona que tenga historias u objetos de recuerdo y que no puedan asistir a los eventos este fin de semana pueden contactarse con Chávez en  gtchavez45@gmail.com ó al 913-486-2213.
---
This weekend: museums seeking Latino baseball memorabilia
By Edie R. Lambert
Officials from the Smithsonian National Museum of American History are in Kansas City for special collecting events August 12 and 13.  The events are part of a nationwide initiative to track the vivid, historical presence of Hispanics in baseball. The purpose of the project, "Latinos and Baseball: In the Barrios and the Big Leagues," with an estimated completion date of 2020 is the creation of a new traveling Smithsonian exhibit celebrating Hispanic Americans' gloried baseball history.
The national museum is interested in stories and artifacts that "reflect the social and cultural influence of baseball on Latino communities." That could include period baseball equipment and photographs, stadium signs, game memorabilia, food vendor signs, home movies and more.
Donors can choose to give the objects to the Kansas City Museum or the Smithsonian or loan the objects to either museum. The paperwork – deeds of donation and loan agreements – are in English, but there will be translators at the weekend's collecting events, said museum officials.
Programming scheduled with the collecting events is open to the public at no charge, but reservations are required for some activities.  The Latinos and baseball lineup includes a panel discussion by authors, curators and experts in Latino culture and Venezuelan Baseball Hall of Fame pitcher, Diego Seguí; receptions; book signings; bus tour of local Mexican American barrios; open-air concert; and memorial and exhibition fast-pitch softball games. To see the complete program lineup and make reservations, visit the museum's Website at kansascitymuseum.org. From the dropdown menu under "programs & events," click on "Collecting Events for 'Latinos and Baseball: In the Barrios and the Big Leagues.'"
Space at some of the events is limited. Museum officials urge the public to make reservations early.
The Kansas City Museum is one of 10 U.S. organizations selected to partner in the multi-year collecting initiative. The invitation came after L. Steven Velasquez, an associate curator at the Smithsonian Museum of American History  visited the Kansas City Museum's 2015 exhibit, "Mexican American Fast Pitch Softball Leagues: Connecting Communities Across State Lines."
Gene T. Chavez, who curated the exhibit, was invited to the Smithsonian last fall and proposed Kansas City as a possible partner in the Latinos and Baseball collecting initiative. After qualifying as a partner with the Smithsonian, the museum commissioned Chavez to organize the collecting program.
"It's an untold story and unless we tell it, it's not going to be told," said Chavez, who's often asked in other parts of the country about the presence of Latinos in Kansas City and the Midwest. The Latino presence in Kansas and Missouri is older than either state, he noted.
"I tell people we've been here since Coronado (the explorer) was here in 1540," Chavez said.
His special interest is the Latino role in America's development, especially in this region and the enduring passion of Mexican immigrants and Mexican-Americans for softball and baseball.
The distinctive synergy of Hispanics and baseball was born long before the game was the "National Pastime," and it became a cohesive cornerstone and cultural nexus for Mexican-American communities.
Today, Hispanics are a defining image of the sport. More than a third of the players selected for Major League Baseball's 87th All-Star Game in San Diego last month were Hispanic. A third of the Kansas City Royals roster is Hispanic. Similarly, nearly a third — 28 percent — of the 750 MLB players on Opening Day rosters were Latin American, CBS Sports reported last month.
The collecting initiative is ongoing. Anyone with stories or memorabilia who can't attend this weekend's events can contact Chavez at gtchavez45@gmail.com or 913-486-2213.