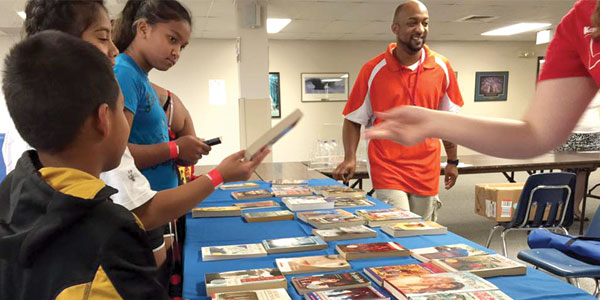 El 6 de agosto, los estudiantes tuvieron la oportunidad de recibir materiales para la escuela, exámenes físicos, vacunas de inmunización y cortes de cabello,  en la Feria Anual de Regreso a Clases del Condado de Wyandotte.
Celebrada en el Community College de  Kansas City, Kan., y organizado por Arlana Coleman, presidenta del comité de eventos, contó con el entretenimiento de cortesía de KPRS y Bobby Rae Entertainment. Para celebrar la feria se reunieron patrocinadores, donaciones y más de 150 voluntarios.
Los estudiantes recibieron libros donados por la biblioteca pública de la ciudad de Kansas, Kan, también se les entregaron mochilas que contienen diversos materiales escolares en base a su nivel de estudio. Una colaboración voluntaria de estilistas organizados por Cynthia Hatfield, estilista local, ofreció cortes de cabello gratuitos. El Centro Médico de KU proporcionó personal médico que aplicó vacunas y exámenes físicos y todos recibieron un almuerzo gratis.
Agencias de la comunidad colocaron mostradores que ofrecían información a los asistentes. Las agencias incluyeron grupos de concientización y ministeriales.
Esta fue la 14º Feria Anual de Regreso a Clases del Condado, las ferias anteriores se llevaron a cabo en el antiguo centro comercial Indian Springs y en la Kansas National Guard Armory.
---
Back-to-school fair provides supplies and services to WyCo students
By Nick Moreno
On Aug. 6, Wyandotte County, Kan., students could receive free school supplies, sports physicals, immunization shots and haircuts at the Wyandotte County Annual Back-to-School Fair.
Held at Kansas City, Kan., Community College and organized by event committee head Arlana Coleman, the event also included entertainment courtesy of KPRS and Bobby Rae Entertainment. Sponsors, donations and more than 150 volunteers came together to make the fair happen.
Students received free books donated by the Kansas City, Kan., Public Library. They also received backpacks containing various school supplies based on grade level. The free haircuts were offered to students and provided by a volunteer collaboration of beauticians organized by local beautician Cynthia Hatfield. Immunizations and sports physicals were available courtesy of a medical staff provided by KU Medical Center. Everyone received a free sack lunch.
Multiple community-based agencies set up booths providing information to those in attendance. The agencies included awareness groups and ministry groups.
This was the county's 14th back-to-school fair. Previous fairs were held at the former Indian Springs Shopping Center and the Kansas National Guard Armory.