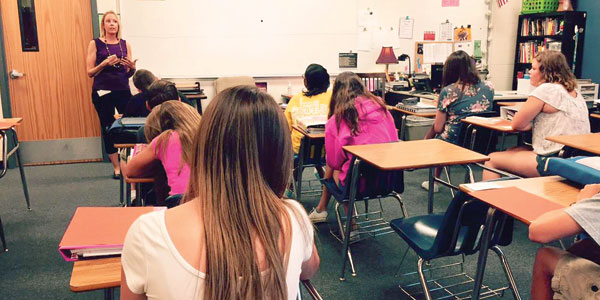 Poco antes del inicio del año escolar, 37 distritos en Kansas pidieron alrededor de $ 8.4 millones en total a la Junta de Educación de Kansas. El dinero se retiraria de una cuenta a disposición de $ 15 millones designado como "fondos de necesidades extraordinarias" al que todos los distritos contribuyen.
El 4 de agosto, para cubrir los próximos gastos de contratación de nuevos profesores, la adición de rutas de autobús y con capacidad para aumentar las tasas de inscripciones, la junta aprobó $ 7,2 millones con la homologación de todos menos tres distritos.
Las mayores solicitudes fueron presentadas por Spring Hill y Basehor-Linwood – dos de los más pequeños, pero también de los distritos con más rápido crecimiento de la zona de Kansas City. Spring Hill, que pidió los mayores fondos de todos los solicitantes, solicitó $ 991.440 y recibió $ 848.580.
De acuerdo con los materiales revisados por la junta, se pidió esa cantidad como resultado de un aumento constante de 4.1 por ciento en la matrícula que había conducido a la contratación de seis profesores más, añadiendo líneas de autobuses y la compra de más computadoras. La solicitud aprobada parcialmente se destinará a cubrir esas necesidades.
Otros distritos del área que recibieron la aprobación incluyen Eudora y Bonner Springs.
En años anteriores, los fondos tenían que ser solicitados al Consejo de Finanzas de Kansas. La Legislatura de Kansas entregó la responsabilidad a la Junta de Educación de Kansas para que sea un proceso más conveniente para los distritos escolares.
---
School districts across Kansas receive $7.2 million in funding
By Melissa Arroyo
Shortly before the start of the school year, 37 districts in Kansas asked for about $8.4 million total from the Kansas Board of Education. The money would be withdrawn from an available pool of $15 million designated as "extraordinary needs funds" that all districts contribute to.
On Aug. 4, to cover the upcoming expenses of hiring new teachers, adding bus routes and accommodating for increasing enrollment rates, the board approved $7.2 million, with approvals granted to all but three districts.
The largest requests were submitted by Spring Hill and Basehor-Linwood – two of the Kansas City area's smallest, but fastest growing districts. Spring Hill, which asked for the largest funds of all the applicants, requested $991,440 and received $848,580.
According to materials reviewed by the board, the money was requested as a result of a constant 4.1 percent increase in enrollment that had led to hiring six more teachers, adding bus routes and purchasing more computers. The partially approved request will be allocated to cover those needs.
Other area-based districts that received approval included Eudora and Bonner Springs.
In previous years, the funds had to be requested from the Kansas Finance Council. The Kansas Legislature handed the responsibility to the Kansas Board of Education to make it a more convenient process for school districts.