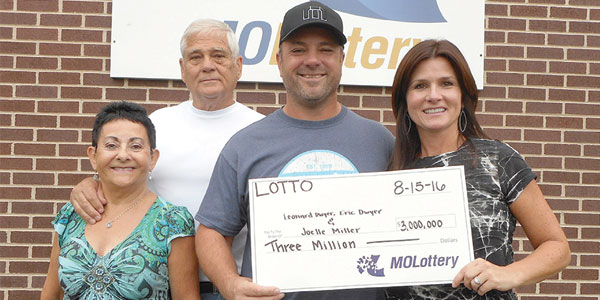 Tres dueños de un restaurante local de Kansas City compartirán un premio mayor de la lotería, de $ 3 millones de dólares, después de jugar con los seis números del sorteo de agosto 13 de 2016. Leonard Dwyer y sus dos hijos mayores, Eric Dwyer y Joelle Miller, se repartirán el premio en partes iguales entre ellos, cada uno se llevó a casa $ 1 millon de dólares antes de impuestos. Los números ganadores fueron: 15, 17, 21, 29, 34 y 38.
Dwyer, de 76 años, compró el billete ganador en Price Chopper, 9717 N. Ash Ave., en Kansas City. La tienda recibirá $ 5,000 por vender el billete ganador.
"Poner en común alrededor de $ 21 dólares por mes y comprar billetes de lotería", dijo Dwyer. "Este es el primer gran premio que he ganado."
La familia es propietaria de Dwyer Café Al Dente, 412 Delaware St., en Kansas City. Eric Dwyer, de 47 años, dice que  este premio será muy bueno para tomar unas vacaciones, "pero es difícil de tomar tiempo libre cuando estás en el negocio de restaurante."
Joelle Miller, de 44 años, dijo que la victoria "debe haber sido el destino", ya que también era cumpleaños de su madre, Jacquelin. Ella dice que algunos de sus ganancias van a ir en un plan de ahorro 529 para la educación de sus hijos.
Lotería es un juego de sorteo dos veces por semana con premios que comienzan en $ 1 millón.
Los Dwyers reclamaron el premio de lotería número 238 vendido desde inicios del juego en 1986.
---
Kansas City Family Shares Lotto Jackpot
Three Kansas City restaurant owners will be sharing a $3 million Lotto jackpot after matching all six numbers drawn in the Aug. 13 drawing. Leonard Dwyer and his two grown children, Eric Dwyer and Joelle Miller, will split the prize evenly between them, each taking home $1 million before taxes. The winning numbers drawn were: 15, 17, 21, 29, 34 and 38.
Dwyer, 76, purchased the winning ticket at Price Chopper, 9717 N. Ash Ave., in Kansas City. The store will receive $5,000 for selling the winning ticket.
"We pool together about $21 per month and buy lottery tickets," Dwyer said. "This is the first big prize we ever won."
The Dwyer family owns Café Al Dente, 412 Delaware St., in Kansas City. Eric Dwyer, 47, says it would be nice to take a "real" vacation, "but it's tough to take time off when you're in the restaurant business."
Joelle Miller, 44, said the win "must have been fate" because it was also her mother's, Jacquelin's, birthday. She says that some of her winnings will be going into a 529 education savings plan for her children.
Lotto is a twice-weekly Draw Game with jackpots that start at $1 million. The Dwyers claimed the 238th Lotto jackpot ticket sold since the game began in 1986.