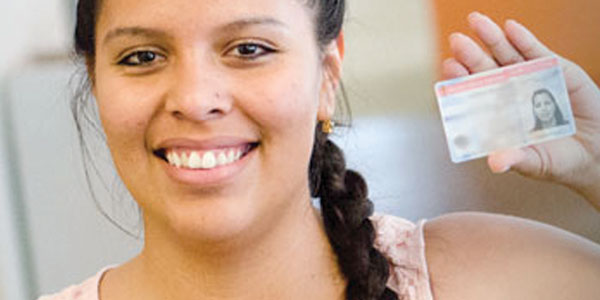 Los jóvenes con DACA pueden solicitar un permiso de viaje para visitar a familiares en su país natal. El permiso se llama Advance Parole (autorización anticipada) y permite que una persona regrese a Estados Unidos después de un corto viaje. Es muy importante tener el permiso antes de salir del país, de otra manera no se le permitirá reingresar a Estados Unidos. El Advance Parole puede solicitarse en cualquier época del año, pero ¡un viaje en Navidad sería súper especial!
A diferencia de otros programas, quienes reciben DACA deben explicar por qué quieren viajar por tres razones específicas: trabajo, escuela o razón humanitaria. El trabajo podría ser una conferencia conjunta fuera de Estados Unidos. La escuela podría ser un viaje corto con su preparatoria o universidad, o un viaje más largo tal como un programa de estudios en el extranjero. Estas dos razones podrían funcionar para un viaje a cualquier lugar del mundo siempre y cuando tengas los documentos que demuestren la razón para el viaje.
Las razones humanitarias son las más comunes y generalmente implican visitar a familiares en tu país natal. Nosotros entregamos los documentos demostrando tu conexión con los familiares con problemas de salud. No tiene que ser una enfermedad seria. Muchos de los que reciben DACA tienen abuelos ancianos que no han visto por 10 o hasta 20 años.
Es muy importante obtener la información correcta antes de viajar con un Advance Parole. Aunque la mayoría de quienes reciben DACA pueden viajar, algunos no deben hacerlo debido a problemas en su historial. Un abogado con experiencia podrá revisar tu historial y explicar los riesgos implicados.
¡No te pierdas esta oportunidad! Se llevan de 2 a 3 meses para obtener la decisión del gobierno sobre tus fechas de viaje. Este es un gran momento para empezar a planear tu viaje en Navidad. Llámanos al 816-895-6363 para mayor información.
---
How does Christmas in Mexico sound?
By Jessica Piedra
Young people with DACA can request a travel permit to visit relatives in their home country.  The permit is called Advance Parole and allows a person to return to the United States after a short trip.  It is very important to have the permit prior to leaving the country or you could not be allowed back into the United States.  Advance Parole can be requested for any time of year, but a Christmas trip would be extra special!
    Unlike other programs, DACA recipients must explain why they want to travel for three specific reasons: work, school or humanitarian.  Work would be a conference or meeting outside of the United States.  School could be a short trip with your high school or university or a longer trip such as a study abroad program.  Both of these reasons could work for a trip anywhere in the world as long as you have documents showing the reason for the trip.  
    Humanitarian reasons are the most common and usually involve visiting family members in your home country.  We submit documents showing your connection to relatives with health problems.  It does not have to be a serious condition.  Many DACA recipients have elderly grandparents they have not seen in 10 or even twenty years.
    It is very important to get good advice before traveling on Advance Parole.  While most DACA recipients will be fine to travel, some should not due to problems in their history.  An experienced attorney will be able to review your history with you and explain the risks involved.
Don't miss this opportunity!  It takes about two to three months to get the decision from the government about your travel dates.  Now is a great time to start planning for Christmas travel.  Call us at 816-895-6363 for more information!