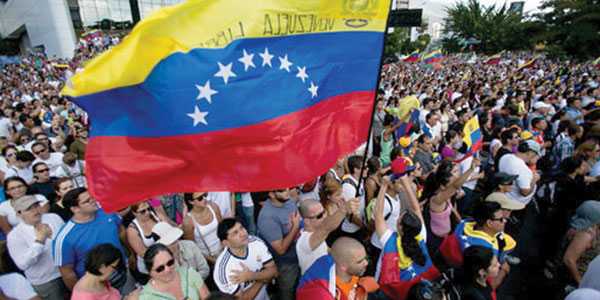 Los venezolanos están cansados de sus inhumanas condiciones de vida y los impredeciblemente altos niveles de corrupción en su gobierno.
Nuestros hermanos y hermanas de Venezuela están sufriendo. Están cansados, con hambre y miedo. Pero no van a darse por vencido.
Alentados por grupos de la oposición, miles de residentes venezolanos recientemente salieron a las calles para protestar contra el gobierno del presidente Nicolás Maduro – un gobierno inmensamente corrupto que no se preocupa por su gente o su país. Venezolanos de todo el país marcharon en protesta por la crisis económica y para exigir un referendo revocatorio de la presidencia de Maduro.
Como era de esperarse, el gobierno no permitió a los manifestantes ejercer su libertad de expresión. Una línea de la policía bloqueó la entrada a Caracas, la capital del país. A medida que los manifestantes intentaron llegar a la capital, agentes de policía dijeron en repetidas ocasiones: "Usted no tiene permiso para entrar en la ciudad. Lo siento. Tengo órdenes ".
Pero los manifestantes no se dieron por vencidos. Abandonando sus vehículos personales y los autobuses públicos, miles de ellos caminaron a través de la línea de la policía para llegar a la capital.
La gente fuera de Venezuela debe ser conscientes de la situación en el país sudamericano. Aunque una solución a este caos parezca imposible, cualquier cosa puede suceder cuando las naciones se unen.
La situación en Venezuela ya no es una cuestión de un país o de una región del mundo. La situación en Venezuela se ha convertido en un problema para la humanidad. Eso significa que todos los seres humanos deben reaccionar.
Los venezolanos no se rinden en su país. El resto de la humanidad no debe renunciar a ellos.
---
Venezuela: A solution seems impossible, but humanity must take action
Commentary by Dermidio Juez-Perez
Venezuelans are tired of their inhumane living conditions and the unpredictably high levels of corruption in their government.
Our brothers and sisters of Venezuela are suffering. They're tired, hungry and scared. But they won't give up.
Urged on by opposition groups, thousands of Venezuelan residents recently took to the streets to protest against President Nicolas Maduro's government – an immensely corrupt government that doesn't care for its people or its country. Venezuelans from all over the country marched in protest of the economic crisis and to demand a recall referendum of Maduro's presidency.
As expected, the government didn't allow the protestors to practice their freedom of speech. A police line blocked the entrance to Caracas, the nation's capital. As the protestors attempted to reach the capital, police officers repeatedly stated: "You're not allowed to enter the city. I'm sorry. I have orders."
But the protestors didn't give up. Abandoning their personal vehicles and getting off of buses, thousands of them walked through the police line to reach the capital.
People outside of Venezuela must be made aware of the situation in the South American country.  Although a solution to this chaos seems impossible, anything can happen when nations unite.
The situation in Venezuela is no longer an issue of one country or one region of the world. The situation in Venezuela has become a problem for humanity. That means all humans should react.
Venezuelans aren't giving up on their country. The rest of humanity shouldn't give up on them.