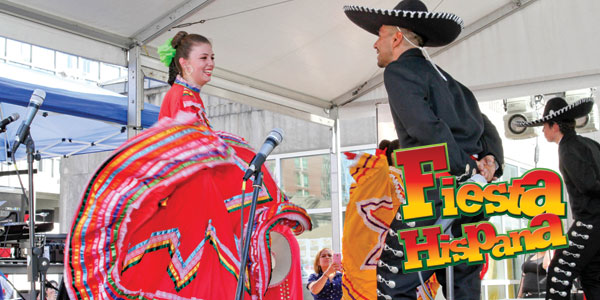 Miles de latinos y amantes de la cultura latina pasaron 3 días de música, comida y arte durante la Fiesta Hispana anual, que concluyó el domingo (18 Sept.) en la plaza Barney Allis en  Kansas City, Mo.
Bailes folklóricos de Los Bailadores de Kansas City fueron parte del espectáculo el 16 de septiembre, el primer día del festival.  Alfonso Navarro, cónsul de México en Kansas City , Mo., ofició el "Grito de Dolores" para conmemorar el Día de la Independencia de México. Además , el Comité de la Herencia Hispana presentó un premio a los fundadores de Dos Mundos Clara y Manuel Reyes por su apoyo a la fiesta.
El 17 de septiembre, también conocida como la Noche Texana, el programa incluyó música del mariachi Herencia Mexicana y bailes Folklórico de el grupo Atotonilco. Finalmente el entretenimiento de el domingo incluyó música de la cantante mexicana Diana Reyes .
____________________________________________________________________________________________________________
Annual Fiesta Hispana draws thousands to KCMO
Photos by Manuel Reyes, Diana Raymer and Michael Alvarado
Thousands of Latinos and lovers of Latino culture took in three days of music, food and art during the annual Fiesta Hispana, which concluded on Sunday (Sept. 18) at Kansas City, Mo.'s Barney Allis Plaza.
The folkloric dances of Los Bailadores de Kansas City were part of the entertainment on Sept. 16, the first day of the festival. Also that day, Alfonzo Navarro, head consul of the Mexican Consulate in Kansas City, Mo., officiated the "Grito de Dolores" ("Shout of Pain" in English) to commemorate Mexican Independence Day. In addition, the Hispanic Heritage Committee also presented an award to Dos Mundos founders Clara and Manuel Reyes for their contributions to the fiesta.
On Sept. 17, also dubbed Texan Night, the program included mariachi music from Herencia Mexicana and dancing by Atotonilco Folklorico. Sunday's entertainment included music by Mexican singer Diana Reyes.