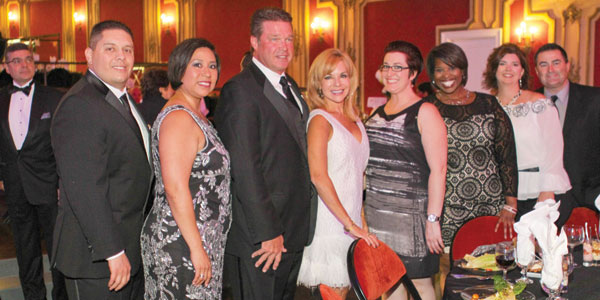 La Gala Premio Blanco y Negro 2016 se llevó a cabo el viernes 16 de septiembre en el Teatro Arvest Bank en el Midland en Kansas City , Mo.
Los ganadores fueron reconocidos por sus contribuciones sobresalientes al 'crecimiento y desarrollo de los Centros de Guadalupe y la comunidad latina local,' que incluyó a individuos e instituciones locales.
Los ganadores compartieron sus pensamientos sobre ser receptores de tal categoría de premios de este año, ya que era la primera vez que recibieron el premio para la mayoía de los individuos.
John Kearney, Coordinador de la Transición en el Colegio Guadalupe Centers Alta Vista, recibió el premio Dorothy Gallagher. Este reconocimiento se otorga a un individuo que ha hecho una 'contribución excepcional a los Centros de Guadalupe por un empleado.'
"Estoy increíblemente humilde y honrado de haber sido nominado y elegido", dijo Kearney. "Después de aprender sobre Dorothy Gallagher y quién es ella y lo que ella hizo, me siento verdaderamente honrado de recibir este premio".
Kearney tiene previsto seguir avanzando la experiencia de aprendizaje de los estudiantes y ayudarles a alcanzar sus objetivos personales. También tiene planes para ayudar a los estudiantes de la Acción Diferida para los Llegados en la Infancia (DACA) adquirar la educación que buscan a pesar de la reciente legislación.
Leo Prieto , Director y Extensión Comunitaria en el Centro Médico Truman, es ganador del premio Thomas & Purcell de este año. Este premio reconoce la 'contribución excepcional a los Centros de Guadalupe por un miembro de la junta actual.'
"Me siento muy, muy humilde, diría porque he estado en el tablero desde hace dos años," dijo Prieto. "Y yo sólo tomé la oportunidad y ha sido maravilloso recibir ese tipo de apoyo de una tabla progresiva como los Centros de Guadalupe."
Estando en la industria de la salud, Prieto está orgulloso de ser capaz de ayudar y orientar entre la comunidad latina, centros de Guadalupe y Centro Médico de Truman.
Los siguientes dos receptores fueron Matt Tomasic, el oficial anterior del Centro Westside CAN KCPD Policía (RET), y Alejandro Solorio, abogado de inmigración en Solorio y Ávila Bufete de Abogados, que ambos recibieron el premio I. Pat Ríos. Este premio reconoce el trabajo de un individuo y su contribución a la comunidad latina en el área metropolitana de Kansas City.
"Es un gran honor de recibir este reconociemiento," dijo Tomasic.
También afirmó que fue un privilegio de haber trabajado para el Centro de CAN durante 15 años.
"Casi diariamente, teníamos que ayudar a la gente y podría ser algo muy pequeño pero ayudábamos a la gente," dijo Tomasic.
Este es el primer año que cada destinatario recibió reconocimiento en las categorías individuales.
"Estoy muy honrado de recibir este premio de una organización tan maravillosa," dijo Solorio. "Los Centros de Guadalupe es uno de los mayores defensores de los hispanos en el área de Kansas City y es sólo un gran honor."
Solorio tiene previsto seguir proporcionando servicios de inmigración y de derecho a la creciente comunidad hispana
Por último, la Universidad de Missouri Central recibió el premio Robert Reeds, que reconoce la 'contribución sobresaliente por una empresa o institución a la comunidad latina de Kansas City.' Dr. Charles M. Ambrose, Presidente de UCM, recibió el premio en nombre de la universidad.
"Estábamos increíblemente (honrados) – y no sólo un honor, pero un poco sorprendidos," dijo Ambrose. "En esta categoría de negocio, nos sentimos más como un socio."
Ambrosio sentia que ese premio tuvo particular importancia, dado que la población latina de UCM es su mayor crecimiento población estudiantil. Espera seguir las asociaciones y relaciones de la universidad que ha desarrollado dentro de la comunidad latina.
La página web Guadalupe Centers está actualmente en construcción, sin embargo, se puede visitar su página de Facebook en www.facebook.com/GuadalupeCenters.
---
Blanco y Negro Gala Award Recipients
By Katherine Diaz
The Blanco y Negro Award Gala 2016 was held on Friday, September 16 at the Arvest Bank Theater at the Midland in Kansas City, Mo.
    Award recipients were recognized for their outstanding contributions to the 'growth and development of the Guadalupe Centers and the local Latino community,' which included local individuals and institutions.
    The winners shared their thoughts on being this year's category award recipients as this was the first time receiving the award for the majority of individuals.
    John Kearney, College Transition Coordinator at the Guadalupe Centers Alta Vista High School, received the Dorothy Gallagher Award. This recognition is awarded to an individual who made an 'outstanding contribution to the Guadalupe Centers by an employee.'
    "I am incredibly humbled and honored to have been nominated and elected," Kearney said. "After learning about Dorothy Gallagher and who she is and what she did, I feel truly honored to receive this award."
    Kearney plans to continue to advance the learning experience of students and assist them in reaching their personal goals. He also plans to help Deferred Action for Childhood Arrivals (DACA) students acquire the education they seek despite recent legislation.
    Leo Prieto, Director and Community Outreach at Truman Medical Center, is this year's Thomas & Purcell Award recipient. This award recognized the 'outstanding contribution to the Guadalupe Centers by a current board member.'
    "I feel very, deeply humbled, I would say because I've been on the board for two years now" Prieto said. "And I just kind of jumped right in and it's been great to receive that type of support from a progressive board like the Guadalupe Centers."
    Being in the health industry, Prieto is proud to be able to assist and provide guidance between the Latino community, Guadalupe Centers and Truman Medical Center.
    The next two recipients were Matt Tomasic, former Westside CAN Center KCPD Police Officer (RET), and Alejandro Solorio, Immigration Attorney at Solorio & Avila Law Firm, who both received the I. Pat Rios Award. This award recognizes an individual's work and contribution to the Latino community in the Greater Kansas City area.
    "It's a great honor to get this recognition," Tomasic said.
    He also stated that he was fortunate to have worked for the CAN Center for 15 years.
    "Almost on a daily basis, we got to help people and it might be something really small but we go to help people," Tomasic said.
    This is the first year each recipient received recognition in the individual categories.
    "I am extremely honored to get such an award from such a wonderful organization," Solorio said. "The Guadalupe Centers is one of the largest advocates for Hispanics in the Kansas City area and it's just a huge honor."
    Solorio plans to continue to provide immigration and legal services to the growing Hispanic community.
    Lastly, the University of Central Missouri received this year's Robert Reeds Award, which recognizes the 'outstanding contribution by a business or institution to the Latino community of Greater Kansas City.' Dr. Charles M. Ambrose, President f UCM, received the award on behalf of the university.
    "We were just incredibly (honored) – and not only honored, but somewhat surprised," Ambrose said. "In that category of business, we feel more like a partner."
    Ambrose felt that award had particular importance, given that UCM's Latino population is its fastest growing student population. He hopes to continue building the partnerships and relationships the university has developed within the Latino community.
    The Guadalupe Centers website is currently under construction, however, you can visit its Facebook page at www.facebook.com/GuadalupeCenters.