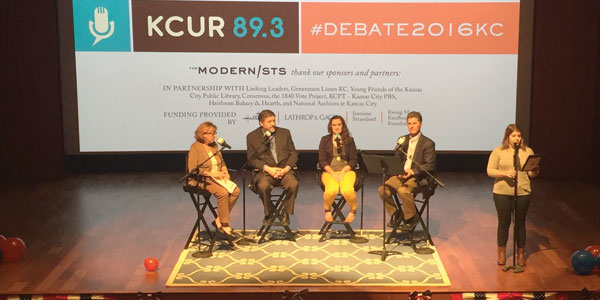 El 26 de septiembre, jóvenes profesionales se reunieron en el Museo Nacional de la Primera Guerra Mundial bajo el Liberty Memorial en Kansas City, Missouri, para mirar el debate presidencial entre Hillary Clinton y Donald Trump.
Organizado por los Modernists, un grupo de jóvenes profesionales cuya meta es ayudar a establecer el museo como una fuerza cultural local, el evento se presentó como una adición a la serie continua del grupo de eventos Modernists Mondays (Lunes de Modernistas), el cual tuvo un lleno total.
Un contacto entre profesionales inició la celebración, completa con cócteles, un DJ y múltiples stands. Entre los stands estuvo uno 1840 Vote Project, una iniciativa local para registrar a votantes entre 18 y 40 años de edad; uno para KCUR-FM (89.3); y un stand de registro de votantes.
Posteriormente los invitados se reunieron en el auditorio J.C. Nichols para escuchar a un panel de periodistas del periódico The Kansas City Star y KCUR quienes proporcionaron un preludio al debate como los invitados establecidos para el evento principal de la noche.
El debate se transmitió en el auditorio en la sala principal. El público principalmente a favor de Clinton vitoreó y aplaudió toda la noche durante el debate de los candidatos. Unos cuantos miembros de la audiencia hasta llegaron a gritarle a la pantalla al sentirse frustrados por las opiniones de uno de los candidatos.
El próximo evento de The Modernists, programado para el 17 de octubre, contará con una happy hour y una visita al cementerio Union. Para mayor información visite www.facebook.com/themodernistskc/.
Nota: De acuerdo con Nielsen, el debate tan anticipado atrajo una audiencia récord de más de 80 millones de televidentes a nivel nacional. Fue el primero de tres debates presidenciales y un debate vicepresidencial. El debate vicepresidencial se llevó a cabo el martes 4 de octubre. Los dos debates presidenciales finales están programados para el domingo 9 y miércoles 19 de octubre.
_____________________________________________________________________________________________________________
Young professionals gather for debate watch party
Story and photos by Nick Moreno
On Sept. 26, young professionals gathered at the National World War I Museum under the Liberty Memorial in Kansas City, Mo., to watch the televised presidential debate between Hillary Clinton and Donald Trump.
Hosted by the Modernists, a group of young professionals whose goal is to help establish the museum as a local cultural force, the event was featured as an addition to the group's ongoing series of Modernists Mondays events. It drew a sellout crowd.
Networking kicked off the festivities, complete with cocktails, a disc jockey and multiple booths. The booths included one for the 1840 Vote Project, a local initiative to register voters ages 18-40; one for KCUR-FM (89.3); and a voter registration booth.
Guests then gathered in the J.C. Nichols Auditorium to listen to a panel of journalists from The Kansas City Star and KCUR who provided a prelude to the debate as the guests settled in for the night's main event.
The debate aired in the auditorium and the main room. The mostly pro-Clinton crowd cheered and clapped throughout the night as the candidates debated. A few audience members even went so far as to yell at the screen as they were frustrated by one candidate's opinions.
The Modernists' next event, scheduled for Oct. 17, will feature a happy hour and tour of the Union Cemetery. For more information, visit www.facebook.com/themodernistskc/.
Note: According to Nielsen, the highly anticipated debate drew a record audience of more than 80 million viewers nationwide. It was the first of three presidential debates and one vice presidential debate. The vice presidential debate was held on Tuesday (Oct. 4). The final two presidential debates are scheduled for Sunday (Oct. 9) and Oct. 19.