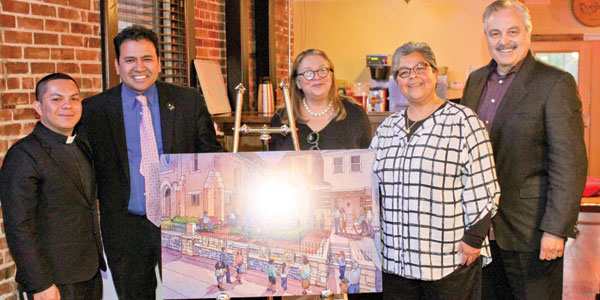 Nuestra Señora de Guadalupe es el símbolo de México – y para honrarla, la Asociación del Templo de Nuestra Señora de Guadalupe de Kansas City desea recaudar $50,000 para empezar a renovar su templo.
Dedicado a la profesa aparición en 1531 de la virgen María en México, el templo está localizado en 901 Avenida César E. Chávez in Kansas City, Mo. Hasta ahora, 17 familias han donado $1,000 cada una para ayudar a renovarlo. Además, la asociación está vendiendo ladrillos personalizados que serán colocados en la nueva gruta. Los ladrillos cuestan $500 para los que miden 4 por 8 pulgadas, y $1,000 por los ladrillos de 8 por 8 pulgadas.
"El gerente de la propiedad para la diócesis (Diócesis de Kansas City-St. Joseph) dijo que la gruta, la cual queda arriba del garaje del Sacerdote, estaba a punto de derrumbarse", dijo Ramona Arroya, presidenta de la asociación. "Dijimos, "Bueno, algo se nos ocurrirá ".
Durante la comida en el 2015 para Acción de Gracias en Guadalupe Centers Inc. en Kansas City, Missouri, Arroyo seencontró con el arquitecto local Rafael García de Garcia Architects LLC.
"Él vino a l templo, para mirar lo que tratábamos de hacer", recordó ella. "Él hizo el dibujo y nos dio la idea. Así s como me di cuenta que la Madre Bendita trabaja en formas misteriosas".
La gruta fue hecha anteriormente  en el templo, de una iglesia parroquial, alrededor de 1950, de acuerdo con la historiadora del templo Teresa Sauceda.
El templo representa la lucha del pueblo mexicano llegando a este país y su devoción por Nuestra Señora de Guadalupe", dijo Sauceda, agregando: "Vamos a llamarlo el Tepeyac de Kansas City".
Para obtener mayor información o para proporcionar un donativo para el Proyecto Gruta, llame a la Iglesia del Sagrado Corazón Guadalupe al (816) 599-7242 o por correo electrónico con Arroyo al ramonaarroyo@sacredheartguadalupe.org
---
Renovation sought for local shrine
By Nicholas Peterson
Our Lady of Guadalupe is an icon synonymous with Mexico – and to honor her, the Our Lady of Guadalupe Shrine Association of Kansas City wants to raise $50,000 to begin renovating its shrine.
Dedicated to the professed appearance in 1531 of the Virgin Mary in Mexico, the shrine is located at 901 Avenida Cesar E. Chavez in Kansas City, Mo. So far, 17 families have donated $1,000 each to help renovate it. In addition, the association is selling personalized bricks that will be placed in the new grotto. The bricks are $500 for 4-by-8 inch bricks and $1,000 for 8-by-8 inch bricks.
"The property manager for the diocese (Diocese of Kansas City-St. Joseph) said that the grotto, which sits on top of Father's garage, was getting ready to cave in," said Ramona Arroya, association president. "We said, 'Well, we'll come up with something.'"
During an auspicious 2015 Thanksgiving luncheon at the Guadalupe Centers Inc. in Kansas City, Mo., Arroyo ran into local architect Rafael Garcia of Garcia Architects LLC.  
"He came over to look at the shrine, to look at what we're trying to do," she recalled. "He just drew the picture and came up with the idea.  So I just figured the Blessed Mother works in mysterious ways."
The grotto arrived at the shrine, formerly a parish church, sometime around 1950, according to shrine historian Teresa Sauceda.
"The shrine represents the struggle of the Mexican people coming to this country and their devotion to Our Lady of Guadalupe," Sauceda said, adding: "We are going to call it the Tepeyac of Kansas City."
For more information or to donate to the Grotto Project, call Sacred Heart Guadalupe Church at (816) 599-7242 or e-mail Arroyo at ramonaarroyo@sacredheartguadalupe.org.