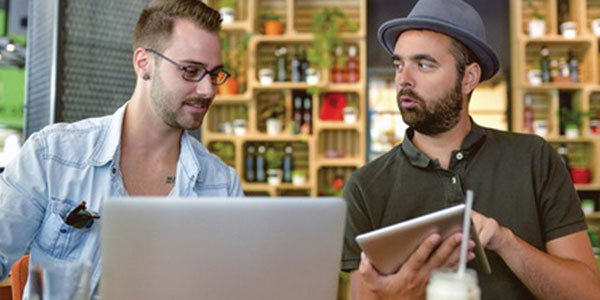 Con la explosión de las redes sociales, la exposición pública nunca ha sido un tema tan importante.
Según un artículo publicado en la revista Forbes, las empresas están usando las redes sociales para expandir sus negocios y optimizar sus oportunidades de reclutar recursos potenciales. Por esta razón, es importante que todo el mundo tome control de su identidad en internet y proyectar una buena imagen que podría conducir a mejores puestos de trabajo.
Según Laura Morgan Roberts, profesor de la Escuela de Negocios de Harvard, la creación de una identidad toma "un enfoque estratégico y proactivo para la gestión de cómo los demás lo perciben.» Con las redes sociales en su tope, la necesidad de adoptar este enfoque para crear una identidad en internet es más importante que nunca.
Roberts también afirma que manejar exitosamente su imagen significa construir credibilidad y mantener la autenticidad. Según Roberts, una persona debe presentarse a sí mismo de una manera que es valorado por otros para conducir a resultados favorables para el individuo y la organización a la que representa (o que desea representar).
Buena suerte con su enfoque «estratégico y proactivo» en la creación de su imagen en el internet – También  puede utilizar los medios sociales.
---
Take care in creating your own online image
Commentary by Paula Alzate
With the explosion of social media, public exposition has never been such an important topic.
According to an article by Forbes magazine, companies are making proficient use of social media to expand their businesses and optimize their opportunities to recruit potential assets. For this reason, it's important for everybody to take control over their online identity to project a good image that could lead to better job positions.
According to Laura Morgan Roberts, a professor from the Harvard Business School, creating an identity takes "a strategic, proactive approach to managing how others perceive your person." With social networking at its peak, the necessity of taking that approach to create an online identity is more important than ever.
Roberts also claims that successfully managing your image means building credibility and maintaining authenticity. According to Roberts, a person must present himself or herself in a manner that is both and valued by others to lead to favorable outcomes for the individual and the organization he or she represents (or wishes to represent).
Good luck with your "strategic, proactive" approach in creating your online image. May you use social media well.