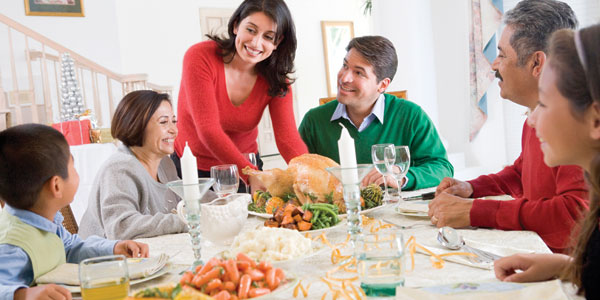 El último jueves de cada noviembre, las familias de todo el país se reúnen para celebrar el Día de Acción de Gracias con mucha comida y reflexionando sobre sus bendiciones.
Oficialmente, esta festividad ha sido una tradición de los Estados Unidos desde 1863. Sin embargo, los que han emigrado de otras partes del mundo a los EE.UU. han tenido que aprender sobre el significado del día.
De esas personas han incluido a Edith López. Una residente de Kansas City, Mo., vino a los EE.UU. a los 3 años de Chihuahua, México, con sus padres y dos hermanos mayores.
"Creo que la primera vez que me enteré de ello (Acción de Gracias) fue en el kindergarten," recordó López. "Estoy segura que lo celebramos antes de eso también."
A esa temprana edad, López creía que el Día de Acción de Gracias era el día en que una persona tenía que cocinar pavo, sin comprender el verdadero significado de la fiesta.
"Mis padres lo apreciaron (y eso es comprensible), considerando que tenían tres niños aprendiendo acerca del Día de Acción de Gracias y haciendo preguntas", dijo López. "Querían que tuviéramos experiencias similares a las de nuestros compañeros."
La incor-poración de tradiciones familiares con esas desconocidas en un nuevo lugar al comienzo de una nueva vida fue importante para la familia de López. Hoy, ella y su familia celebran el día como la mayoría de los estadounidenses: reunidos con la familia, compartiendo juegos y comiendo mucha comida.
"Tendremos pavo, jamón, puré de patatas, judías verdes, tarta de calabaza y todo tipo de cosas," dijo López.
Pero la familia de López agrega un giro a la fiesta tradicional sirviendo platillos mexicanos, incluyendo tamales y buñuelos – pedazos de masa plana, redonda frito con azúcar. También juegan la versión mexicana del bingo: La lotería.
A través de los años, el Día de Acción de Gracias se ha convertido en un día significativo para López.
"Honestamente, el Día de Acción de Gracias es mi fiesta favorita!," ella declaró.
_______________________________________________________________________________________________________________
Area resident among Latino immigrants who observe, embrace Thanksgiving
By Katherine Diaz
On the last Thursday of every November, families nationwide gather to celebrate Thanksgiving with lots of food and by reflecting on their blessings.
Officially, this holiday has been a U.S. tradition since 1863. Still, those who've immigrated from elsewhere in the world to the United States have had to learn about the day's significance.
Those people have included Edith Lopez. The Kansas City, Mo., resident came to the United States at age 3 from Chihuahua, Mexico, with her parents and two older brothers.
"I think the first time I actually learned about it (Thanksgiving) was in kindergarten," Lopez recalled. "I'm sure we celebrated it before that, though."
At that young age, Lopez believed Thanksgiving was the day a person had to cook turkey, not fully understanding the holiday's true meaning.
"My parents embraced it – (and that's understandable), considering they had three kids learning about Thanksgiving and asking questions," Lopez said. "They wanted us to have similar experiences as our peers."
Incorporating familiar traditions with unfamiliar ones in a new place at the beginning of a new life was important for Lopez's family. Today, she and her family celebrate the day as most Americans do: gathering with family, playing games and eating tons of food.
"We'll have the usual turkey, ham, mashed potatoes, green beans, pumpkin pie and all kinds of other stuff," Lopez said.
But Lopez's family adds a twist to the traditional feast by serving Mexican dishes, including tamales and bunuelos (buñuelos in Spanish) – pieces of flat, round fried dough with sugar. They also play the Mexican version of bingo: La Loteria.
Through the years, Thanksgiving has become a significant day for Lopez.
"Honestly, Thanksgiving is my favorite holiday!" she stated.