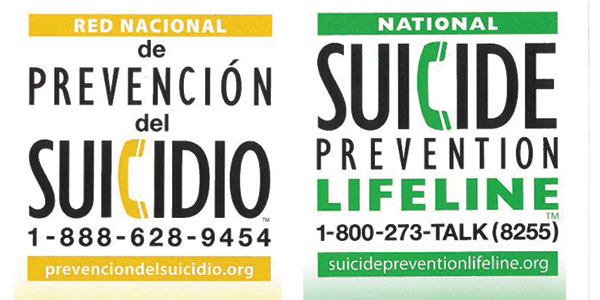 Una coalición local busca apoyar a cualquier persona afectada por el suicidio.
El martes (29 de noviembre), la Suicide Prevention Coalition (Coalición para la Prevención del Suicidio) del condado de Johnson (Kan.), busca conseguir el objetivo de brindar apoyo presentando su cuarta actualización anual en la Universidad MidAmerica Nazarene en Olathe. Oficiales de policía, trabajadores sociales y otros profesionales de la salud mental asistieron al evento educativo, a presenciar algunas conferencias sobre iniciativas recientes y resultados.
"En el 2015, 88 personas en el condado de Johnson murieron por suicidio o sobredosis. De esos 88 individuos, 67 estaban entre las edades de 21 y 60 «, según el comunicado de prensa de la coalición.
El jefe de policía de Olathe (OPD), Shawn Reynolds, presentó los últimos números para el condado de Johnson, citando un aumento de 63.8 por ciento en las llamadas relacionadas con la salud mental al OPD.
"El suicidio es algo que nos afecta a todos", dijo Reynolds. "No es suficiente que nos mantengamos al margen".
Reynolds también anunció que los kits de escuela que incluyen hojas de información bilingües, imanes de coche con el número de la línea directa contra el suicidio y tarjetas de Lifeline están siendo distribuidas a todas las escuelas preparatorias del condado de Johnson. Además, dijo que, a pesar de una disminución en el financiamiento para la salud mental, el OPD cuenta con un profesional de salud mental que se encarga de ayudar a responder las llamadas y disponible para emergencias.
Kevin McGuire, del Centro de Salud Mental del Condado de Johnson, habló de la próxima sesión de entrenamiento ASIST (Applied Suicide Intervention Skills Training) que está mucho más enfocada a la prevención del suicidio que cualquier otra que haya encontrado durante sus 10 años de estudios psicosociales. La próxima sesión de ASIST se llevará a cabo de 8:30 a.m. a 4:30 p.m. el 19 y 20 de enero en el centro médico Shawnee Mission. El costo de la clase por los dos días es de $100.
Casi al final del simposio, el profesional de salud pública local Steve Willsie compartió cómo el suicidio de un amigo lo puso de rodillas.
"Cambió mi vida y fue una llamada de atención – ¿qué puedes hacer con ello?", Preguntó a la audiencia. "Esta causa es buena y es increíble".
Para obtener más información sobre la coalición, visite jocogov.org/spc. La Línea Directa Nacional de Prevención del Suicidio es 1- (800) -273-TALK (8255).
______________________________________________________________________________________________________________
Johnson County suicide prevention coalition updates community
By Nicholas Peterson
A local coalition wants to support anyone affected by suicide.
On Tuesday (Nov. 29), the Johnson County (Kan.) Suicide Prevention Coalition pursued that goal of providing support by presenting its fourth annual update at MidAmerica Nazarene University in Olathe. Police officers, social workers and other mental health professionals attended the educational event, with some giving presentations on recent initiatives and results.
"In 2015, 88 individuals in Johnson County died by suicide or overdose. Of those 88 individuals, 67 were between ages 21 and 60," according to a coalition press release.  
Olathe Police Department (OPD) Deputy Chief of Police Shawn Reynolds presented the latest numbers for Johnson County, citing a 63.8 percent increase in mental health-related calls to the OPD.  
"Suicide is something that impacts all of us," Reynolds said. "It is insufficient for any of us to sit on the sidelines."
Reynolds also announ-ced that school kits that include bilingual information sheets, car magnets with a suicide hotline and lifeline cards are being distributed to all Johnson County high schools. In addition, he said that, despite a decrease in funding for mental health, the OPD has a mental health professional known as a co-responder on staff and available for emergencies.  
Kevin McGuire of the Johnson County Mental Health Center discussed the upcoming Applied Suicide Intervention Skills Training (ASIST) session – training that's more specific to suicide prevention than any he said he has encountered during his 10 years of psychosocial studies. The next ASIST session will run from 8:30 a.m. to 4:30 p.m. Jan. 19-20 at the Shawnee Mission Medical Center. The cost for the two-day class is $100.
Near the symposium's conclusion, local public health professional Steve Willsie shared how his friend's suicide brought him to his knees.
"It changed my life, and that call to action – what can you do with it?" he asked the audience. "This cause is good and it's unbelievable."
For more information about the coalition, visit jocogov.org/spc. The National Suicide Prevention Hotline is 1-(800)-273-TALK (8255).