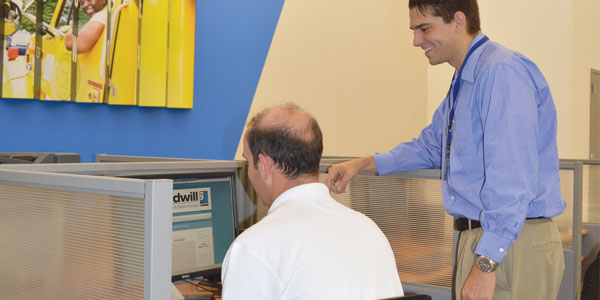 Las personas que buscan trabajo están recibiendo ayuda de Goodwill.
Las tres tiendas Goodwill del área de Kansas City, son la sede de GoodWORKS Career Resource Centers (Centros de Recursos de Carreras GoodWORKS) (ver más información abajo) – áreas en las tiendas donde las personas que buscan trabajo pueden asociarse con un profesional de carreras en Goodwill y utilizar computadoras con Internet, teléfonos, máquinas de fax, copiadoras e impresoras. También pueden recibir ayuda para preparar su resumen y para la entrevista.
Goodwill ofrece los servicios sin costo.
"Un profesional de carreras de Goodwill está disponible para ayudar a la exploración de empleos, preparación de resumen, listas de empleos en línea, navegación por Internet, solicitudes en línea, así como el uso de herramientas de búsqueda de empleos y mucho más", dice un panfleto de Goodwill.
Goodwill también ayuda a mantener actualizada una lista de recursos de servicios sociales y comunitarios. Vivienda y transportación quizás también está disponible para los clientes.
"Entendemos que algunas veces obtener y mantener un empleo no resuelve todos los problemas", declaró Suzanna Gunning, vicepresidenta de participación comunitaria de Goodwill, mediante un correo electrónico. "Cuando un cliente que llega al Centro GoodWORKS necesita asistencia en transporte y vivienda, los referimos a socios tales como el departamento de vivienda, ShareFare, Eitas y entrenamiento de viajes mediante KCATA (Departamento de Transporte de Kansas City).
De acuerdo con Gunning, Goodwill ya ha ayudado aproximadamente a 350 personas este año.
Para quienes hablan español, algunos servicios están disponibles mediante un navegador de carreras bilingüe.
"Si ella no está en el lugar, nosotros ayudamos a la persona a hacer una cita con ella. Ella está disponible para reunirse en cualquiera de nuestros centros GoodWORKS", dijo Gunning.
Goodwill "siempre se entusiasma cuando un cliente regresa para avisarnos que obtuvo un empleo", dijo Gunning.
Los Centros de Recursos de Carreras de Goodwill que están abiertos y su horario de operación son los siguientes:
*GoodWORKS dentro de la tienda Goodwill Store en North Oak: Abierto de 10 a.m.-3 p.m. lunes a jueves. Ubicada en 4824 North Oak Trafficway, Kansas City, Mo.
*GoodWORKS en las oficinas principales de Goodwill: abierto de 9 a.m.-2 p.m. lunes y miércoles. Localizado en 1817 Campbell St., Kansas City, Mo.
*GoodWORKS en seguida de la tienda Goodwill en St. Joseph: abierto de 9 a.m.-4 p.m. lunes a viernes. Localizado en 3609 Faraon St., St. Joseph, Mo.
__________________________________________________________________________________________________________
Goodwill opens free career centers to help job-seekers
By Nicholas Peterson
Job-seekers are receiving a helping hand from Goodwill.
Three Kansas City area Goodwill stores are home to GoodWORKS Career Resource Centers (see more information below) – in-store areas where job-seekers can partner with a Goodwill career professional and use internet-ready computers, phones, fax machines, copiers and printers. They also can receive help with résumés and interview preparation.
Goodwill offers the services free of charge.
"A Goodwill career professional is available to assist with job exploration, résumé preparation, online job listing, navigation, online applications, as well as the use of job search tools and much more," a Goodwill pamphlet states.
Goodwill also keeps an up-to-date resource library of social and community services. Housing and transportation also might be available to clients.
"We understand that sometimes earning and keeping a job doesn't solve every issue," stated Suzanne Gunning, Goodwill vice president of community engagement, via e-mail. "When a client who comes to the GoodWORKS Center needs transportation and housing assistance, we refer them to partners such as (the) housing authority, ShareFare, Eitas and travel training through (the) KCATA (Kansas City Area Transportation Authority)."
According to Gunning, Goodwill has already served approximately 350 job-seekers this year.
For Spanish-speakers, some services are available in Spanish through a bilingual career navigator.
"If she's not on site, we assist the job-seeker in making an appointment with her," Gunning said. "She's available to meet at any of our GoodWORKS centers."
Goodwill is "always thrilled when a client returns to let us know that they earned a job," Gunning said.
     The Goodwill Career Resource Centers that are open and their hours of operation are as follows:
*GoodWORKS inside the Goodwill Store on North Oak: Open 10 a.m.-3 p.m. Monday-Thursday. Located at 4824 North Oak Trafficway, Kansas City, Mo.
*GoodWORKS at the Goodwill Main Offices: Open 9 a.m.-2 p.m. Mondays and Wednesdays. Located at 1817 Campbell St., Kansas City, Mo.
*GoodWORKS next to the Goodwill Store in St. Joseph: Open 9 a.m.-4 p.m. Monday-Friday. Located at 3609 Faraon St., St. Joseph, Mo.