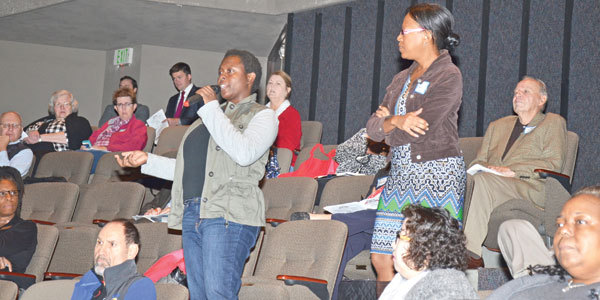 En el 2011, algunas personas decidieron que querían ver un cambio en su comunidad.
De ese interés compartido, se formó la Alianza de South Kansas City (SKCA).
"South Kansas City Alliance busca representar los intereses de los residentes, las empresas y los sectores sin fines de lucro en Kansas City," dijo John Sharp, presidente del Comité de Asuntos Gubernamentales de SKCA. "Estamos experimentando una expansión en el sur de Kansas City con el proyecto Cerner y otras expansiones de negocios importantes."
El SKCA considera la decisión de Cerner de continuar su expansión a la sección sur de Kansas City como un logro importante para la organización. Sus otros objetivos incluyen aumentar la cantidad de viviendas y tiendas minoristas, y mejorar las escuelas locales.
"Parte de lo que hicimos para asegurarnos de que nuestra comunidad responda a los nuevos empleos que llegan con Cerner y otros empleadores … (fue que), empezamos hacer una encuesta," dijo Stacey Johnson-Cosby, presidente de SKCA. "Investigamos a los empleados de Cerner para averiguar lo que querían de nuestra comunidad, en lo que respecta a la vivienda, el comercio minorista, los restaurantes (y) las comodidades."
Los resultados de la encuesta mostraron la necesidad de nuevas viviendas. El objetivo de SKCA para abordar esta preocupación es ponerse en contacto con desarrolladores y constructores en el 2017 y notificarles de esa necesidad.
"Si bien puede no estar sucediendo ahora, queremos ser proactivos en llegar y asegurarnos de que los desarrolladores, otros dueños de negocios y empresarios saben cuáles son las necesidades que sus negocios pueden cumplir," dijo Johnson-Cosby.
Otra meta de SKCA es asegurarse de que el sur de Kansas City obtenga desarrollo para apoyar no sólo a los empleados de Cerner que se instalarán allí, comenzando a principios de 2017 y durante los próximos 10 años, sino también para apoyar a los actuales residentes de Kansas City del sur.
"Sólo queremos ser una voz para el área para asegurar que la búsqueda y el crecimiento continúe," dijo Sharp. "Queremos promover no sólo la continuación de grandes proyectos como Cerner, sino que también nos gustaría ver más restaurantes sentados, establecimientos minoristas, más desarrollo de viviendas unifamiliares y renovaciones de viviendas en la zona."
Todo lo que SKCA ha logrado ha sido a través de sus alianzas con funcionarios electos, otras organizaciones vecinales y organizaciones cívicas en Kansas City del sur, según Sharp.
"Tenemos tanta suerte de que las personas que están involucradas con nosotros y que sirven en nuestros comités y sirven en nuestro directorio son algunos de los grupos de personas más dedicados y talentosos que hay," dijo Johnson-Cosby. "Todos los que vienen a nosotros … (lo hacen) porque quieren estar allí."
Para más información sobre el SKCA, visite southkcalliance.org.
__________________________________________________________________________________________________________
SKCA helping local community prosper
By Katherine Diaz
In 2011, some individuals decided they wanted to see a change in their community.
From that shared interest, the South Kansas City Alliance (SKCA) was formed.
"South Kansas City Alliance seeks to represent the interests of residents, businesses and non-profit sectors in Kansas City," said John Sharp, SKCA Government Affairs Committee chair. "We are experiencing an outgrowth in South Kansas City with the Cerner project and other major business expansions."
The SKCA considers Cerner's decision to continue its expansion to the South Kansas City section of Kansas City, Mo., as a major achievement for the organization. Its other goals include increasing the amount of housing and retail stores, and improving local schools.
"Part of what we did to make sure that our community responds to new jobs coming in with Cerner and other employers … (was), we started by doing a survey," said Stacey Johnson-Cosby, SKCA president. "We surveyed Cerner employees to find out what they wanted from our community, as far as housing, retail, restaurants (and) amenities (were concerned)."
The survey results showed the need for new housing. The SKCA's goal for addressing this concern is to contact developers and builders in 2017 and notify them of that need.
"While it may not be happening now, we want to be proactive in reaching out and making sure that developers, other business owners and entrepreneurs know what the needs are that their businesses can fulfill," Johnson-Cosby stated.
Another SKCA goal is to make sure that South Kansas City gets development to support not only Cerner employees who'll settle there, starting in early 2017 and over the next 10 years, but also to support current South Kansas City residents.
"We just want to be a voice for the area to assure that the seeking out and growth continues," Sharp said. "We do want to promote not only the continuation of major projects like Cerner, but we'd (also) like to see more sit-down restaurants, retail establishments, more single-family housing development and renovations to homes in the area."
Everything the SKCA has accomplished has been through its partnerships with elected officials, other neighborhood organizations and civic organizations in South Kansas City, according to Sharp.
"We are so lucky that (the) people who are involved with us and serve on our committees and serve on our board are some of the most dedicated and talented group of people out there," Johnson-Cosby said. "Everyone that comes to us … (does so) because they want to be there."
For more information on the SKCA, visit southkcalliance.org.