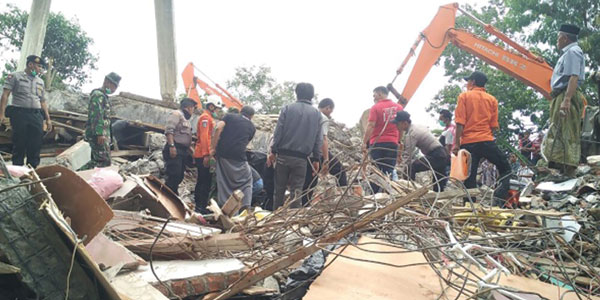 Aproximadamente 100 personas en Indonesia murieron en un terremoto de 6.5 grados que sucedió alrededor de las 5 a.m. del miércoles (7 de diciembre), de acuerdo con la Radio Nacional Pública (NPR).
"Su epicentro fue en la costa de la provincia Aceh, la misma región donde un terremoto desencadenó un devastador tsunami en el 2004", dijo NPR.
La Prensa Asociada (Associated Press) informó que 273 personas resultaron heridas, de acuerdo con la Agencia Nacional de Mitigación de Desastres de Indonesia, además de que  "245 edificios resultaron dañados o destruidos".
Un desastre el miércoles en Pakistán también llamó la atención de los medios internacionales. Según el New York Times, el vuelo PK 661 de Pakistani International Airlines (PIA) se estrelló en el norte de Pakistán, abordo de la flota se encontraban 42 pasajeros y cinco tripulantes. Según el sitio web de la aerolínea, el accidente ocurrió alrededor de las 4:40 a.m. hora local.
"PIA está tomando todas las medidas posibles para ayudar a las familias de las víctimas y a las autoridades locales", indicó el sitio web.
__________________________________________________________________________________________________________
Earthquake hits Indonesia, plane crashes in Pakistan
By Nicholas Peterson
Approximately 100 people in Indonesia have died in a 6.5-magnitude earthquake that struck around 5 a.m. local time on Wednesday (Dec. 7), according to National Public Radio (NPR).
"Its epicenter was on the coast of Aceh province, the same region where an earthquake triggered a devastating tsunami in 2004," NPR stated.
The Associated Press reported 273 people injured, as announced by Indonesia's National Disaster Mitigation Agency, with "245 buildings damaged or destroyed."
A disaster on Wednesday in Pakistan also drew international media attention. According to The New York Times, Pakistani International Airlines (PIA) Flight PK 661 crashed in northern Pakistan, carrying 42 passengers and five crew members. According to the airline's website, the crash occurred around 4:40 a.m. local time.
"PIA is taking all possible measures to help (the) victims' families and to assist local authorities," the website stated.