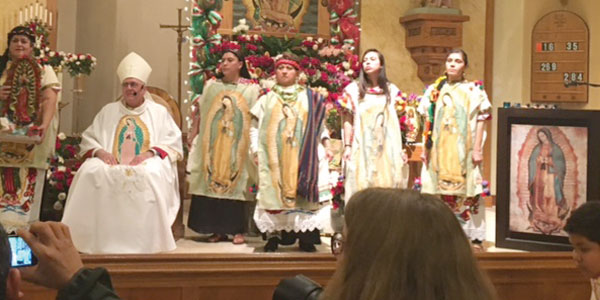 Joseph F. Naumann, arzobispo de la Arquidiócesis de Kansas City, Kansas, se unió a los fieles de la Iglesia Católica Evangelista St. John en Kansas City, Kansas, para una misa en homenaje a Nuestra Señora de Guadalupe, celebrando la profecía de la aparición de la Virgen María al indígena mexicano Juan Diego en el centro de México en los años 1500. Esta fue la primera vez que el Arzobispo presidió una misa en dicha parroquia.
"Estamos encantados de recibir al Arzobispo Naumann este año para la celebración de Nuestra Señora de Guadalupe", Fc.Ken O'Connor expresó a los feligreses en un folleto de la parroquia que fue repartido antes del evento.
La misa, que culminó con la novena dedicada a la Virgen María, incluyó a miembros de la comunidad vestidos con indumentaria indígena, niños usando zarapes en honor a Juan Diego y hasta una Danza de los Viejitos.
___________________________________________________________________________________________________________
Archbishop celebrates Our Lady of Guadalupe with Hispanic community
Story by Nicholas Peterson and photos by Manuel Reyes
Archbishop Joseph F. Naumann, Archbishop of the Archdiocese of Kansas City, Kansas, joined the faithful of St. John the Evangelist Catholic Church in Kansas City, Kansas, for a Spanish Mass commemorating Our Lady of Guadalupe, the professed apparition of the Virgin Mary to the native Mexican Juan Diego in central Mexico in the 1500s. It was the first time the Archbishop had presided over such a Mass at the parish.
"We are delighted to host Archbishop Naumann for our celebration of Our Lady of Guadalupe this year," Fr. Ken O'Connor  told parishioners in a parish bulletin preceding the event.
The Mass, which culminated a nine-day novena to the Virgin Mary,  included community members dressed in indigenous regalia, children dressed in zarapes commemorating Juan Diego, and even a Danza de los Viejitos (dance of the old men).