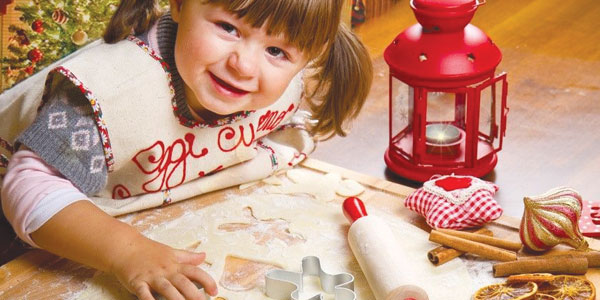 La cena de Navidad es un tiempo para la diversión, la risa y el comer sin parar. Sin embargo, los preparativos de la cena puede ser una historia diferente.
Se necesita un gran esfuerzo para ofrecer una deliciosa cena familiar. Y aunque el resultado final podría ser espectacular, asegúrese de estar tomando precauciones en la cocina para prevenir lesiones y accidentes mientras lo está haciendo.
Éstos son algunos consejos para recordar cuando estés preparando la comida de la fiesta Navideña este año:
*Tenga cuidado con su horno: Al poner los alimentos en o sacar los alimentos del horno, use guantes de horno adecuado para evitar quemaduras. Asegúrese de que los niños no estén alrededor del horno cuando la puerta del horno esté abierta. De hecho, podría ser mejor mantenerlos fuera de la cocina mientras prepara la comida, especialmente si usted es el único cocinero.
*Establezca un temporizador en su comida: De esa manera, las distracciones no interrumpirá el proceso de cocción adecuado. También es útil si puede dejar a otra persona a cargo de hacer el check-in en la preparación de la comida. Este consejo también es una manera de ayudar a prevenir los fuegos de la cocina cuando la comida se deja en el horno o en la estufa durante más tiempo de lo que debería ser.
*Asegúrese de que todas las asas de la cacerola y la cacerola se giran hacia dentro hacia los mostradores de la cocina, no colgando sobre la estufa: Aunque sería mejor si todos los niños fueron mantenidos fuera de la cocina durante el proceso de preparación, es comprensible si eso no es posible. Para evitar que los niños se dañen, mantenga todas las manijas de cocinar hacia adentro, de modo que es poco probable que los niños lleguen a las ollas y sartenes y vierta algo sobre sí mismos.
*Limpie sus desórdenes: La limpieza de la cocina podría ser la mejor manera de prevenir lesiones menores o accidentes. Esto debe incluir el lavado de todos los platos, la eliminación de cuchillos, la limpieza del piso y los derrames de la encimera, y la limpieza de la estufa y el horno. Es comprensible que usted puede ser agotado de la cocina del día y la cocción, pero es una de las mejores maneras de prevenir los accidentes de cocina y lesiones durante la temporada de vacaciones.
__________________________________________________________________________________________________________
How to be cautious in the kitchen this Christmas
Commentary by Katherine Diaz
Christmas dinner is a time for fun, laughter and non-stop eating. However, dinner preparations can be a different story.
It takes great effort to provide a delicious family dinner. And although the end result might be spectacular, make sure you're taking precautions in the kitchen to prevent injuries and accidents while you're making it.
Here are a few tips to remember when whipping up the Christmas feast this year:
*Be cautious of your oven: When putting food into or taking food out of the oven, use proper oven mitts to prevent burns. And make sure children aren't around the oven when the oven door is open. In fact, it might be best to keep them out of the kitchen while you're preparing the meal, especially if you're the sole cook.
*Set a timer on your food: That way, distractions won't interrupt the proper cooking process. It's also helpful if you can leave another individual in charge of checking in on the meal preparation. This piece of advice also is a way to help prevent kitchen fires when the food is left in the oven or on the stovetop for longer than it should be.
*Make sure all pot and pan handles are turned inward toward the kitchen counters, not hanging over the stove: Although it would be best if all children were kept out of the kitchen during the preparation process, it's understandable if that's not possible. To keep children from harm, keep all cooking handles inward, so that children are unlikely to reach the pots and pans and pour anything on themselves.
*Clean up your messes: Cleaning up the kitchen might be the best way to prevent minor injuries or accidents. This should include washing all dishes, putting away knives, cleaning up floor and countertop spills, and cleaning your stovetop and oven. It's understandable that you might be exhausted from the day's cooking and baking, but it's one of the best ways to prevent kitchen accidents and injuries during the holiday season.