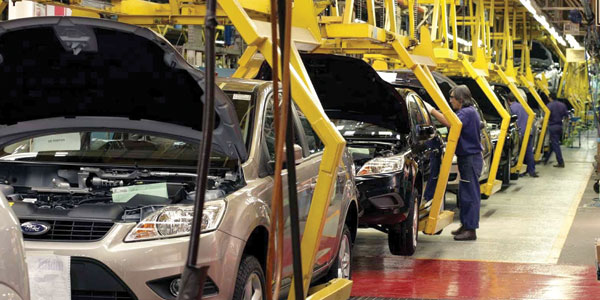 El presidente electo Trump aún no es un representante oficial del gobierno de Estados Unidos. Pero, ¿podrían sus ideas anunciadas a través de Twitter en horas inesperadas de la noche estar afectando a las empresas del país?
Lo siguiente sugiere que sí.
La compañía Ford Motor Co., la segunda corporación de automóviles más grande de Estados Unidos, anunció el martes (3 de enero) que decidió cancelar sus planes de construir una nueva planta de $1.600 millones de dólares en México.
Coincidentemente – o no – ese mismo día, Trump twitteó: "General Motors está enviando el modelo mexicano de Chevy Cruze a los concesionarios de autos de los Estados Unidos – sin impuestos a través de la frontera. ¡Hagan en los EEUU o paguen un impuesto grande en la frontera!"
Durante el anuncio de Ford, la compañía explicó que, en lugar de invertir más en México, invertiría $ 700 millones para expandir una planta existente en Flat Rock, Michigan, agregando así 700 nuevos puestos de trabajo a la economía estadounidense. La planta fabricaría nuevos vehículos eléctricos, híbridos y autónomos.
Mark Fields, CEO de Ford, dijo que la decisión se basó en parte en las condiciones cambiantes del mercado, junto con la política que se espera que beneficien a la industria automotriz bajo la presidencia de Trump. "Este es un voto de confianza para el presidente electo Trump y algunas de las políticas que puede seguir", dijo el CEO. Sin embargo, aclaró que la empresa no movería ninguna planta existente en México a los Estados Unidos y que el Ford Focus aún se construiría en México.
En cuanto si el presidente electo Trump influyó en la decisión de Ford -o está influyendo en otras empresas del país a través de sus tweets en horas inusuales – es difícil de concretar. Pero, lo que si es cierto es que la inversión de Ford en el mercado americano es un paso en la dirección correcta para la economía de esta gran nación.
__________________________________________________________________________________________
Ford says "no" to Mexico, "yes" to the U.S.
Commentary by Dermidio Juez-Perez
President-elect Trump isn't yet an official U.S. government representative. But could his potential policies being announced via Twitter at unexpected hours of the night already be impacting corporate America?
The following might suggest that they are.
Ford Motor Co., the second largest U.S. automobile corporation, announced on Tuesday (Jan. 3) that it has decided to cancel its plans to build a new $1.6 billion plant in Mexico. Coincidentally – or not – earlier that day, Trump tweeted: "General Motors is sending Mexican-made model of Chevy Cruze to U.S. car dealers-tax free across border. Make in U.S.A. or pay big border tax!"
During Ford's announcement, the company explained that, instead of further investing in Mexico, it would invest $700 million to expand an existing plant in Flat Rock, Mich., thus adding 700 new jobs to the American economy. The plant will make new electric, hybrid and autonomous vehicles.
Mark Fields, Ford CEO, said the decision was based partly on changing market conditions, along with the policies expected to benefit the automotive industry under Trump's presidency.
"This is a vote of confidence for President-elect Trump and some of the policies he may be pursuing," multiple news outlets quoted Fields as saying.
However, the CEO clarified that the company wouldn't move any existing plants in Mexico to the United States and that the Ford Focus would still be built in Mexico.
Whether or not President-elect Trump influenced Ford's decision – or is influencing other parts of corporate America via his tweets at unusual hours – this much is true: Ford's investment in the American market is a step in the right direction for this great nation's economy.