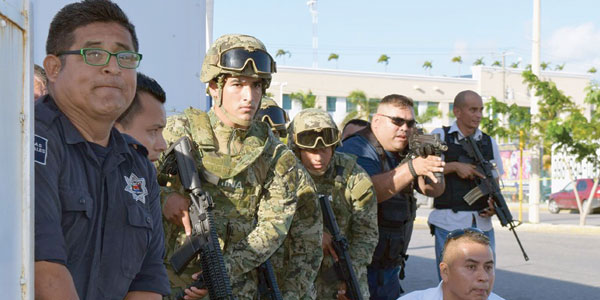 De acuerdo con BBC, cuatro personas murieron en un ataque a la oficina del fiscal estatal en el poblado de Quintana Roo, en Cancún.
Tres de los agresores y un policía estuvieron entre los muertos, en lo que el gobernador de Cancún Carlos Joaquín ha interpretado como una reacción a sus acciones contra el crimen organizado.
Justo un día antes del ataque, cinco personas fueron asesinadas por un criminal en Playa del Carmen, otra popular localidad cercana a Cancún.
"El estado está bajo control y en orden … La gente de Cancún y nuestros visitantes pueden seguir sus vidas como de costumbre». Indicó, el gobernador Carlos Joaquín el martes por la noche en televisión, de acuerdo con BBC.
---
Four killed in attack on Cancun government office
By Nicholas Peterson     
Four people have been killed during an attack on the state attorney's office in the barrio of Quintana Roo, in Cancun, according to the BBC.
Three attackers and one policeman were among the dead, in what Cancun Governor Carlos Joaquin has interpreted as a reaction to his actions on organized crime.
Just one day prior to the attack, five people were murdered by a gunman in Playa del Carmen, another popular resort near Cancun.   
"The state is under control and in order…People from Cancun and our visitors can go about their lives as normal." Governor Carlos Joaquin said Tuesday night on television, according to the BBC.