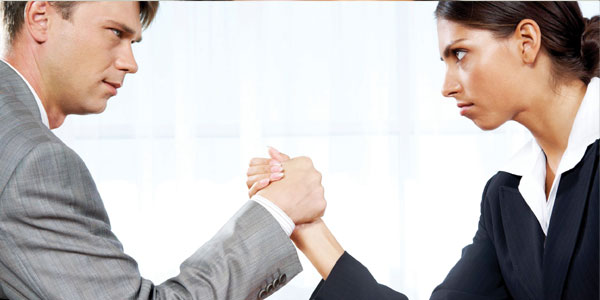 "Un poco de competencia es algo bueno
Y la competencia severa es una bendición ".
– Jacob Kindleberger
Como dueño de negocio, es difícil estar de acuerdo con esta afirmación. Buscando aumentar las ventas, nuestros instintos naturales nos dicen constantemente que eliminemos la competencia; Que, sin competidores, nuestro negocio sería más exitoso. Contrariamente a nuestros instintos, la competencia es ideal para los negocios. Este es el por qué.
La competencia promueve la innovación – ¿Recuerda el último anuncio emocionante que publicó su compañía local de gas o agua? ¿No? Esto se debe a que la mayoría de las empresas de servicios públicos operan sin competidores, lo que les permite ofrecer sus productos y servicios a un precio y nivel de calidad sin temor a perder a sus clientes. Sin competencia, no están presionados a demostrarnos lo que los hace grandes.
Cuando existen más competidores, los clientes tienen el poder de elegir de cúal negocio quieren comprar. Esto suele basarse en las necesidades personales: precio, calidad u otros factores importantes para el consumidor. Cuando esto ocurre, debemos ser más creativos en la forma que nos presentamos a nuestros clientes en cómo somos diferentes – y mejor – que nuestros competidores. Esto conduce a mejores precios, calidad y satisfacción general.
Cuando la competencia existe, nuestro negocio se presenta con la oportunidad de convertirse en lo mejor que puede ser. Un desafío digno de cualquier gran dueño de negocio.
Próxima semana: "Elija su Precio"
Para obtener más información, llame a HEDC al 816.221.3442
________________________________________________________________________________________________
Why Competition Matters
By Michael Carmona
"A little competition is a good thing
and severe competition is a blessing."
            – Jacob Kindleberger
As a business owner, it is difficult to agree with this statement.  Seeking to increase sales, our natural instincts are constantly telling us to eliminate the competition; that without competitors, our business would be more successful.  Contrary to our instincts, competition is great for business.  Here's why.
Competition promotes innovation – Do you remember the last exciting advertisement your local gas or water company published? No?  This is because most utility service companies operate with no competitors, allowing them to deliver their products and services at a price and level of quality without fear of losing their customers.  Without competition, they are not pressured to prove to us what makes them great.
When more competitors exist, customers are given the power to choose which businesses they want to buy from.  This is usually based on personal needs: price, quality, or other factors important to the consumer.  When this occurs, we must become more creative in how we present to our customers how we are different – and better – than our competitors.  This leads to better prices, quality, and overall satisfaction.      
When competition exists, our business is presented with the opportunity to become the best it can be.  A challenge worthy of any great business owner.
Next week: "Pick Your Price"
For more info, call HEDC at
816.221.3442