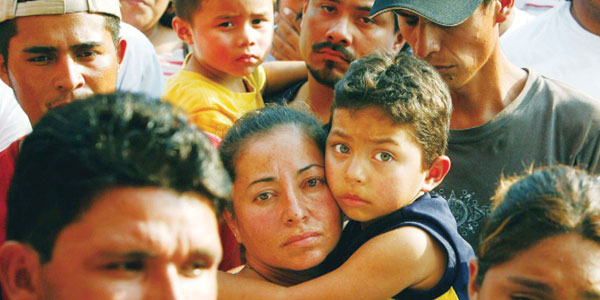 El día de descanso tradicional para muchas personas se convirtió en lo opuesto el domingo pasado (12 de febrero), cuando los rumores del Departamento de Inmigración y Aduanas (ICE, por sus siglas en inglés) sobre las iglesias del área de Kansas City causaron preocupación en la comunidad hispana.
La serie de rumores, sin justificación, se produjo en medio de una semana de operación de las leyes de inmigración a nivel nacional, en donde sucedieron más de 650 arrestos, según cifras publicadas en el sitio web de ICE.
En un comunicado emitido el lunes (13 de febrero) por la tarde, el secretario de Seguridad Nacional, John Kelly, indicó que las operaciones atacaron a miembros de pandillas, criminales convictos, personas que re entraron ilegalmente, fugitivos de inmigración y "personas que han violado las leyes migratorias de nuestra nación".
Queda por ver cuántos municipios locales participarán en las futuras operaciones de ICE.
"Tenemos que seguir la ley federal y lo haremos", indicó el alcalde / CEO Mark Holland del condado de Wyandotte/ Kansas City, Kan., en un correo electrónico por parte de su director de comunicaciones. "No estamos obligados a servir como oficiales federales".
La abogada local de inmigración Jessica Piedra mencionó que si un inmigrante indocumentado se encuentra con la policía debe proporcionar algún tipo de identificación, pero que no hay necesidad de hablar.
Piedra también indicó que dentro de los derechos de los inmigrantes indocumentados está el derecho a guardar silencio, el derecho a no firmar nada y el derecho a comunicarse con su consulado o abogado. El tener la tarjeta de un abogado a la mano es un punto a favor.
Otro es el derecho a un juicio en el tribunal de inmigración si la persona ha estado en Estados Unidos por dos años. Y si la persona ha estado aquí por 10 años, tiene el derecho de solicitar una cancelación de la expulsión – una solicitud que es difícil de obtener en el tribunal, indicó Piedra.
En noticias relacionadas, dos agencias locales están realizando un evento de conoce-tus-derechos. El Centro Inc. tendrá uno el viernes (17 de febrero) de 10:00 a mediodía en el 650 de la avenida Minnesota en Kansas City, Kan. El 22 de febrero, de las 5:30 p.m. a las 8:30 p.m. Guadalupe Centers Inc. será la sede de otro evento en el 1015 de la avenida César Chávez en Kansas City, Mo.
___________________________________________________________________________________________
Fear and information in the time of immigration
By Nicholas Peterson
The traditional day of rest for many people became the opposite last Sunday (Feb. 12), when rumors of U.S. Department of Homeland Security Immigration and Customs Enforcement (ICE) sweeps at Kansas City area churches caused concern in the Hispanic community.
The rumored sweep, which didn't take place, came amid a week of nationwide immigration enforcement that saw more than 650 arrests, according to ICE figures posted on its website.
In a statement released Monday (Feb. 13) afternoon, Homeland Security Secretary John Kelly said the operations targeted gang members, convicted criminals, illegal reentries, immigration fugitives and "individuals who have violated our nation's immigration  laws."
How much local municipalities will participate with future ICE enforcement operations remains to be seen.
"We are required to follow federal law and will do so," Unified Government of Wyandotte County/Kansas City, Kan., Mayor/CEO Mark Holland said in an email from his communications director.  "We are not required to serve as federal agents."
Local immigration attorney Jessica Piedra said if an undocumented immigrant encounters law enforcement to provide some kind of identification, if possible, but that there's no need to get chatty.
Piedra also said the rights of undocumented immigrants include the right to remain silent, the right not to sign anything and the right to speak to their consulate or attorney. Having a lawyer's card on hand is a strength, she said.
Other rights include the right to immigration court if the person has been in the United States for two years. And if the person has been here for 10 years, an undocumented immigrant has the right to request a cancellation of removal – a request that's difficult to win in court, Piedra said.
In related news, two local agencies are holding know-your-rights events. El Centro Inc. will hold one from 10 a.m. to noon on Friday (Feb. 17) at 650 Minnesota Ave. in Kansas City, Kan. From 5:30 p.m. to 8:30 p.m. on Feb. 22, Guadalupe Centers Inc. will host an event at its 1015 Avenida Cesar Chavez location in Kansas City, Mo.