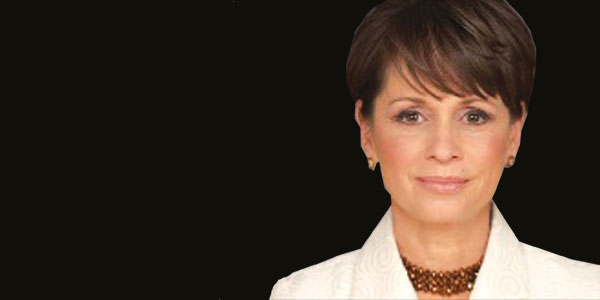 Una agencia de ayuda católica local que ofrece asistencia de emergencia para las necesidades básicas y apoya la interde-pendencia de las mismas, por parte de la población de bajos recursos de la ciudad durante 45 años. Conocido desde 1994 como el Centro Bishop Sullivan, la organización sin fines de lucro opera dos bancos de alimentos, una cocina comunitaria y ofrece servicios de empleo, ropa y asistencia familiar y legal. Dos de los programas característicos del centro son Drive KC to Work y Project ElderCool.
"El centro Bishop Sullivan existe con el único propósito de ayudar a la gente", indicó María Antonia. "En gran parte, tal vez la mayor parte de las personas a las que ayudan son familias hispanas de nuestra comunidad".
Esta es una causa que María Antonia ha apoyado durante mucho tiempo. Una de las personalidades más conocidas y célebres de Kansas City, ha sido promotora de Bishop Sullivan durante mucho tiempo. Desde que se retiró de KMBC 9 News en el 2012, la galardonada conductora y reportera ha escrito y producido los cautivadores videos promocionales del centro. María Antonia, una confiable anecdotista, invita a los espectadores a encontrarse con las personas afectadas por las obras del Bishop Sullivan. Su narración es convincente, simpática y poderosa.
"Estoy produciendo el tipo de historias que amo", mencionó. "Todas las historias se tratan de las personas en un momento decisivo de sus vidas y cómo el Centro Bishop Sullivan fue capaz de ayudarles a superar las batallas que enfrentaron".
Durante sus 28 años con la filial de ABC en Kansas City, María Antonia se encargó de una serie de tareas de alta importancia, incluyendo reportajes desde el Golfo Pérsico a bordo del USS Abraham Lincoln en 2003 durante la Guerra de Irak, cubriendo la visita del papa Juan Pablo II en Cuba- el lugar de nacimiento de María Antonia – y en una sala de operaciones del Centro Médico Saint Joseph entrevistando a dos enfermeras; una de las cuales estaba donando un riñón para salvar la vida de su amiga y compañera de enfermería de mucho tiempo.
Por su trabajo, María Antonia ha sido galardonada en varias categorías con seis premios Emmy regionales, tres premios Edward R. Murrow regionales, dos premios Kansas Association of Broadcasters y cinco premios Kansas City Press Club. Pero son las personas sobre las que informa y el dinamismo del proceso creativo lo que le sirven de musa.
"Tener la oportunidad de servir a la comunidad, proporcionando información que uno espera sea importante que las familias vean, produciendo una buena historia que conlleve un bien es un privilegio", indicó María Antonia. "De alguna manera, todas las historias son importantes por diferentes razones".
Ella dice que no hay "nada más atractivo" que crear algo que da a la gente la oportunidad de ver o escuchar algo que nunca han escuchado antes.
"Hacer eso para mí nunca ha dejado de ser emocionante, fascinante – una oportunidad de crear algo desde cero – y se convierte en un proceso más creativo todo el tiempo debido a la tecnología cambiante", mencionó.
María Antonia ganó algunos de los premios de periodismo junto con su esposo, Tim Twyman, fotoperiodista desde 1981 con KMBC 9, donde su hijo, Turner siguió sus pasos.
"Este es el primer año de Turner en el trabajo, y ahora es un fotoperiodista ganador de Emmy", mencionó María Antonia.
Ella y Twyman tenían un hijo mayor, Tyler, quien dio el regalo de la vida cuando murió en un trágico accidente un mes antes de cumplir 15 años. Los Twymans donaron sus órganos.
-Es lo que él habría querido -dijo María Antonia-. "Él era ese tipo de niño. Tyler, en su corta vida, era un ser humano muy generoso. Enseñó a los estudiantes en la escuela y pasó sus veranos entregando comidas a personas mayores ".
_____________________________________________________________________________
Maria Antonia an inspired storyteller with a mission
By Edie R. Lambert
A 45-year-old local Catholic relief agency offers emergency assistance for basic necessities and a helping hand toward self-sufficiency for the central city's low-income population. Known since 1994 as the Bishop Sullivan Center, the nonprofit operates two food pantries and a community kitchen and provides employment services, household assistance, clothes, and legal assistance. Two of the center's signature programs are Drive KC to Work and Project ElderCool.   
"Bishop Sullivan Center exists solely for the purpose of helping people," said Maria Antonia. "A great deal, maybe the majority of people they help are Hispanic families in our community."
It's a cause Maria Antonia has long supported. One of Kansas City's best-known and celebrated on-air personalities, she's a longtime Bishop Sullivan supporter. And since retiring from KMBC 9 News in 2012, the award-winning anchor and reporter has written and produced the center's captivating promotional videos. A trusted raconteur, Maria Antonia invites viewers to the front lines to meet the individuals impacted by Bishop Sullivan's work. Her storytelling is compelling, sympathetic and powerful.
"I'm producing the kind of stories I love," she said. "All the stories are about people at a turning point in their lives and how the Bishop Sullivan Center was able to help them overcome the struggles they faced."
During her 28 years with the ABC affiliate in Kansas City, Maria Antonia handled a number of high-profile assignments, including reporting from the Persian Gulf aboard the USS Abraham Lincoln in 2003 during the Iraq War, covering Pope John Paul II's 1998 visit to Cuba – Maria Antonia's birth place — and in an operating room at Saint Joseph Medical Center interviewing two nurses; one was donating a life-saving kidney to her longtime friend and fellow nurse.
For her work, Maria Antonia has been honored in several categories with six Regional Emmy Awards, three Regional Edward R. Murrow Awards, two Kansas Association of Broadcasters Awards and five Kansas City Press Club awards.  But it's the people she reports about and for and the dynamism of the creative process that serve as muse.
"Having the opportunity to serve the community, providing information that one would hope is important to the families watching, producing a good story that does some good is a privilege," Maria Antonia said. "In some ways, all the stories become important for different reasons."
She says there's "nothing more enticing" than creating something that gives people the opportunity to see or hear something they've never heard before.
"Something about doing that for me has never stopped being exciting, fascinating – an opportunity to create something from scratch — and it becomes a more creative process all the time because of changing technology," she said.
Maria Antonia won some of the journalism awards jointly with her husband, Tim Twyman, a photojournalist since 1981 with KMBC 9, where their son, Turner followed in his dad's footsteps.
"This is Turner's first year on the job, and he's now an Emmy Award-winning photojournalist," Maria Antonia said.
She and Twyman had an older son, Tyler who gave the gift of life when he died in a tragic accident a month before his 15th birthday. The Twymans donated his organs.
"It's what he would have wanted," Maria Antonia said. "He was that kind of kid. Tyler, in his very short life was a very giving human being. He tutored students at school, and he spent his summers delivering meals to elderly people."