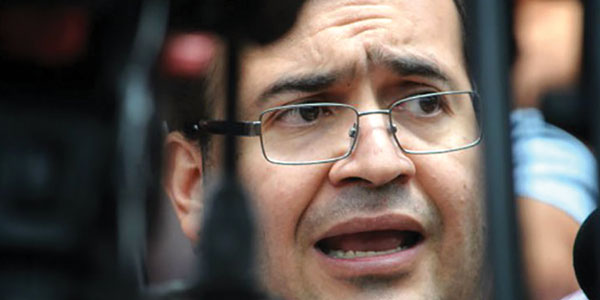 Javier Duarte, considerado por muchos como uno de los gobernadores más corruptos de la historia de México, está tras las rejas.
El ex gobernador de Veracruz fue detenido el 15 de abril en Guatemala. Duarte, que huyó de México a fines de 2016, era buscado por lavado de dinero y crimen organizado. Además, está siendo acusado de saquear varias instituciones de salud y educación en Veracruz.
Duarte dejó el cargo dos meses antes de terminar su mandato, afirmando que se enfrentaría a cargos criminales. Luego huyó de México. Después de su partida, el gobierno mexicano congeló sus cuentas y confiscó propiedades del ex gobernador.
Duarte siempre negaba que las cuentas y las propiedades eran suyas. Sin embargo, las autoridades mexicanas investigaron y vincularon las cuentas y propiedades a su nombre.
El domingo (16 de abril), Duarte fue trasladado a una prisión en Guatemala. El Ministerio de Relaciones Exteriores de México ya ha solicitado su extradición.
El arresto de Duarte sigue al arresto de Tomas Yarrington. Yarrington, fue gobernador del estado de Tamaulipas y fue arrestado recientemente por lavado de dinero y crimen organizado en Italia.
En noticias relacionadas, las autoridades mexicanas siguen persiguiendo a Cesar Duarte, ex gobernador de Chihuahua acusado de corrupción, malversación y enriquecimiento ilícito.
Los tres ex gobernadores forman parte del Partido Revolucionario Institucional – la afiliación partidaria del presidente mexicano Enrique Peña Nieto.
_________________________________________________________________________________
Former Veracruz governor arrested in Guatemala
By Chara
Javier Duarte, considered by many as one of the most corrupt governors in Mexican history, is behind bars.
The former Veracruz governor was arrested on April 15 in Guatemala. Duarte, who fled Mexico in late 2016, was wanted for money laundering and organized crime. In addition, he's being accused of stripping money from various health and educational institutions in Veracruz.
Duarte left office two months before finishing his term, stating he would face criminal charges. Then, he fled Mexico. After his departure, the Mexican government froze Duarte's accounts and seized properties from the former governor.
Duarte always denied the accounts and properties were his. However, Mexican authorities investigated and linked the accounts and properties to his name.
On Sunday (April 16), Duarte was transferred to a prison in Guatemala. The Mexican Foreign Ministry has requested his extradition.
Duarte's arrest follows Tomas Yarrington's arrest. Yarrington, a former governor of Tamaulipa, was arrested recently for money laundering and organized crime in Italy.
In related news, Mexican authorities are still pursuing Cesar Duarte, a former governor of Chihuahua who's accused of corruption, embezzlement and illicit enrichment.
The three former governors are part of the Institutional Revolutionary Party – the party affiliation of Mexican President Enrique Pena Nieto (Peña Nieto in Spanish).