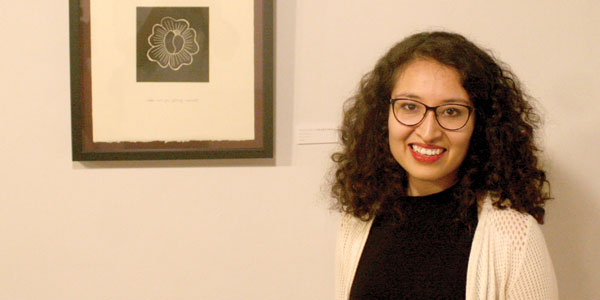 Elizabeth Martínez no es una mujer mexicana tradicional – y su actual exposición de arte lo refleja.
Nacida en Querétaro, ella partió de México hacia Estados Unidos cuando era bebé. Ella creció en Jackson, Missouri, un pueblo de unos 14,000 habitantes localizado a cinco horas al sureste de Kansas City en una familia tradicional mexicana. Su madre era ama de casa, atendía la casa y cuidaba a los niños mientras su padre trabajaba.
Martínez escogió un camino diferente al de su mamá, estableciéndose en el área de Kansas City para asistir al Instituto de Arte de Kansas City. Ahora en su último semestre de universidad también está trabajando tiempo completo en mercadeo, ella planea seguir una carrera de mercadotecnia.
"He evitado ese camino siguiendo una carrera, una licenciatura y seguir algo más que solamente ser una típica mujer mexicana", dijo Martínez.
La exposición de Martínez en el espacio de la Coalición de Artistas de Kansas City adopta esa idea. Cada obra es un impreso configurado. Todos son perfiles de una flor en blanco y negro. Algunas de las flores tienen citas escritas en inglés y español. "¿Cuando te vas a casar?", dice una. "¿Cuando vas a tener hijos?", dice otra.
"Este conjunto de obras está basado en la idea de que estoy tratando de evitar esas expectativas mientras que todavía amo realmente mi cultura y amo de dónde vengo", dijo Martínez.
Martínez fue elegida especialmente para presentar su exposición, la cual también es su tesis y último proyecto antes de graduarse. Su colección se exhibe junto a una exposición estudiantil universitaria mayor. Las dos están en exhibición hasta el 28 de abril.
La exposición de Martínez está en la galería subterránea del espacio de la Coalición de Artistas de Kansas City, localizado en 201 Wyandotte St. in Kansas City, Mo. Para obtener más información visite kansascityartistcoalition.org.
_____________________________________________________________________________________
Martinez's work on display in local gallery
By Nick Moreno
Elizabeth Martinez isn't a traditional Mexican woman – and her current art exhibit reflects that.
Born in Queretaro, she left Mexico for the United Sates as a baby. She grew up in Jackson, Mo., a town of about 14,000 located five hours southeast of Kansas City, in a traditional Mexican family. Her mother stayed home, tended to the house and watched the kids while her father worked.
Martinez chose a different path than her mother, settling in the Kansas City area to attend the Kansas City Art Institute. Now in her last semester of college while also working full time in marketing, she plans to pursue a marketing career.
"I have avoided that path (by) pursuing a career, pursuing a degree (and) pursuing something more than just being the typical Mexican woman," Martinez said.
Martinez's exhibit at the Kansas City Artists Coalition space embraces that idea. Each piece is a constructed print. All of them are black and white outlines of a flower. Some of the flowers have quotes written underneath in Spanish and English. "When are you getting married?" reads one. "When are you going to have kids?" reads another.
"This body of work is based on that idea that I am trying to avoid those expectations while I still really love my culture and love where I come from," Martinez said.
Martinez was chosen especially to present her exhibit, which also is her senior thesis and last project before graduation. Her collection is running alongside a larger undergraduate college student exhibit. Both are showing until April 28.
Martinez's exhibit is in the underground gallery of the Kansas City Artists Coalition space, located at 201 Wyandotte St. in Kansas City, Mo. To learn more visit kansascityartistcoalition.org.