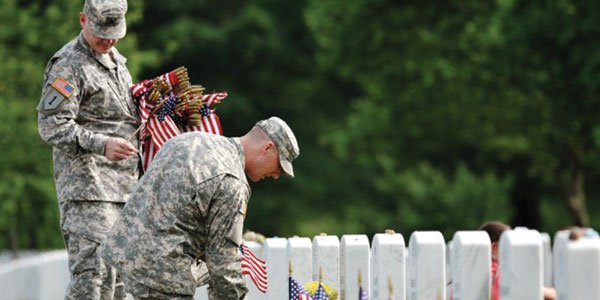 El Memorial Day (Día de los caídos) es un día de honor y reconocimiento.
Al principio era llamado Decoration Day y fue creado para honrar a miembros de servicio en la Guerra Civil estadounidense que murieron en batalla, se ha ido transformando gradualmente en una fiesta para honrar a todos los estadounidenses que han muerto durante el servicio militar. Se convirtió se manera oficial en una fiesta nacional en 1971.
Tradicionalmente, el Memorial Day se celebra el último lunes de mayo. Este año, Memorial Day cae el 29 de mayo.
Para los residentes del área de Kansas City que desean observar Memorial Day, existen varias opciones. En Kansas City, Mo., la sinfonía de Kansas City honrará a los caídos al realizar su décimo quinto concierto anual como parte de la celebración del Bank of America en la estación. El evento comenzará a las 3 p.m. el 28 de mayo, con la música empezando a las 8, en Union Station. Gratis y abierto al público, Celebration at the Station incluirá comida y fuegos artificiales.
Otra opción es visitar el Museo Nacional de la Primera Guerra Mundial. El museo tendrá eventos especiales durante el fin de semana del día de los Caídos, que comenzará el 26 de mayo. La entrada es gratuita para veteranos y personal militar de servicio activo. Las entradas estarán a mitad de precio todo el fin de semana para el público en general. Además, una ceremonia de conmemoración está programada de 10 a.m. a las 11 de la mañana del Memorial Day en el museo.
El Museo Nacional de la Primera Guerra Mundial y el Memorial se encuentra en el  2 del
Memorial Drive en Kansas City, Missouri.
___________________________________________________________________________________
Memorial Day: What it is and ways to observe it

By Chara
Memorial Day is a day of honor and recognition.
First called Decoration Day and created to honor U.S. Civil War service members who died while fighting the war, it has gradually evolved into a holiday for honoring all Americans who've died during military service. It became an officially national holiday in 1971.
Traditionally, Memorial Day is observed on the last Monday in May. This year, Memorial Day falls on May 29.
For Kansas City area residents wanting to observe Memorial Day, there are a few options. In Kansas City, Mo., the Kansas City Symphony will honor the fallen by hosting its 15th annual concert as part of the Bank of America Celebration at the Station. The event will begin at 3 p.m. on May 28, with the music beginning at 8, at Union Station. Free and open to the public, Celebration at the Station also will include food and fireworks.
Another option is visiting the National World War I Museum and Memorial. The museum will have special events throughout Memorial Day Weekend, which will begin on May 26. Admission is free for veterans and active duty military personnel. Tickets will be half-price all weekend for the general public. In addition, a commemoration ceremony is scheduled from 10 a.m. to 11 a.m. on Memorial Day at the museum.
The National World War I Museum and Memorial is located at 2 Memorial Drive in Kansas City, Mo.