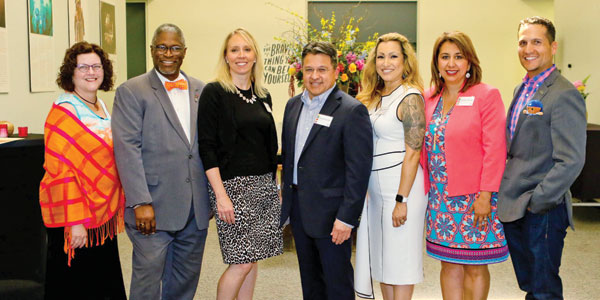 Story by Emiliano Gross and photos by Michael Alvarado
On June 2, a group of Latino artists got to showcase their work to prominent Kansas City area figures.
They did so that night during the Latino Art Festival's VIP reception, held at Hallmark Cards Inc.'s Union Hill Studio in Kansas City, Mo. Those who attended were exposed to a mix of Latino culture that included painting and minicar exhibits, and folk dancing.
The Latino Art Festival was born as "an avenue to attend (to) the disparities between the programs for children to afford art related classes," said Michael Gonzalez, Hallmark director of diversity and inclusion.
"With this dream, we partnered up with Mattie Rhodes (the Mattie Rhodes Art Center and Gallery) to develop the first annual Latino Arts Festival to showcase artists and their work," Gonzalez said.
Promotors of the event included Deanna Munoz (Muñoz in Spanish), who's involved with HEART Latino ERG at Hallmark.
"This year, the Latino Art Festival reached (out to) Kansas City, Kan., in order to reach the artists in that area," she said.  "We didn't only find artists, but (also) supporters and sponsors of the Latino art culture who wanted an event like this to happen for a very long time. This event brings the entire Latino culture together by lifting (up) the young Latino artists to show our Kansas City community their work."
Hallmark HEART ERG cooperated with multiple sponsors to enlarge festival participation, including El Centro Inc.; the Kansas City, Kan., Chamber of Commerce; and the Downtown Shareholders of Kansas City Kan. Despite the multiple parties involved, however, Gonzalez felt that "we never lost focus of what we … (were) trying to do."
"This is about … Latinos being afforded the opportunity to show what they do, … all the difficulties they usually have – and also (to) give the opportunity to people to see and appreciate what they do, (all while) learning about their culture and the way it enriches the American culture," Gonzalez said.
For more information about participating in the upcoming 2018 festival as an artist, supporter or sponsor, email Munoz at deanna.munoz@hallmark.com.
---
Festival exhibe el arte y la cultura latina
El 2 de junio, un grupo de artistas latinos tuvieron la oportunidad de mostrar su trabajo ante figuras prominentes del área de Kansas City.
El evento sucedió durante la recepción VIP del Festival de Arte Latino, llevado a cabo en el estudio fotográfico de Hallmark Cards Inc., Union Hill Studio en Kansas City, Mo. Los presentes pudieron disfrutar de una porción de la cultura latina que incluyó pinturas, exhibición de autos miniatura y danzas folclóricas.
El Festival de Arte Latino surgió como "una avenida para atender las disparidades existentes entre los programas que ofrecen clases de arte para los más jóvenes", declaró Michael González, director de diversidad e inclusión en Hallmark.
"Con este sueño, nos asociamos con Mattie Rhodes (el Centro de Arte y Galerías Mattie Rhodes) para desarrollar el primer festival anual de Arte Latino para exhibir a los artistas y sus trabajos," dijo González.
Entre los principales promotores del evento se encuentra Deanna Muñoz, quien trabaja en la división HEART Latino ERG de Hallmark.
"Este año el Festival de Arte Latino se expandió hacia Kansas City, Kan., con la finalidad de contactar nuevos artistas", mencionó la señora Muñoz. "No sólo encontramos artistas, sino sponsors y personas que apoyan el movimiento de arte y cultura latina, y quienes estaban esperando por un evento de esta magnitud hacía tiempo. El festival promueve la unión de la cultura latina con el fin común de promover el trabajo de los artistas más jóvenes de la comunidad de Kansas City".
Hallmark HEART Latino ERG cooperó con los siguientes sponsors para aumentar la participación en el festival: El Centro Inc.; la Cámara de Comercio de Kansas City, Kan., y Downtown Shareholders of Kansas City Kan. A pesar de la participación tan variada, González siente que "nunca hemos perdido el foco de lo que tratamos de conseguir".
"Todo esto es para darle la oportunidad a los latinos de exhibir sus capacidades … y a su vez, brindar la oportunidad a las demás personas de ver y admirar su arte, mientras se aprende de la cultura latina y las muchas maneras en la que ésta enriquece la cultura americana", afirmó González.
Para más información acerca del festival del año próximo, ya sea para un artista o sponsor, por favor comunicarse con Deanna Muñoz a través de su correo electrónico: deanna.munoz@hallmark.com.