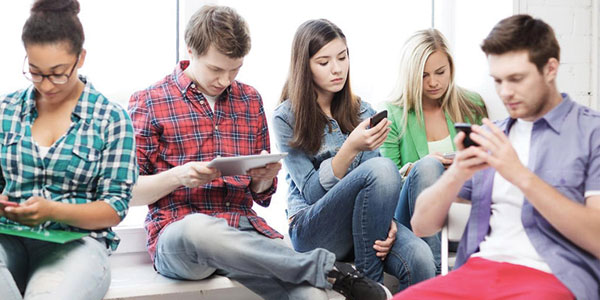 Analysis by Chara
Of the living generations in America, one generation appears to be linked more closely to the latest technology than the others: Generation Z.
Born between 1995 and 2014, Generation Z is the generation after the Millennials. Members of Generation Z have had smartphones, tablets and social media all their lives. Typically introduced to technology by their parents, they've used a technological device practically since infancy.
However, not all Generation Z Americans have the same access to technology because of socioeconomic conditions. Although many of them own the latest technological devices, many others can't afford to buy them and must visit libraries for their internet access.
In keeping with their reliance on technology, Generation Z Americans tend to turn to the internet for answers to their questions than other generations do. Specifically, they turn to social networking sites. Social networking sites that are popular with Generation Z Americans include Snapchat, Instagram and Twitter.
Americans in Generation Z also are typically defined as multitaskers and realistic thinkers. And they're defined as being more private in terms of how they share their lives on social media. For example, they tend to avoid Facebook because of the presence of "adults" on the social networking site.
Although they prefer their privacy online, Generation Z Americans also tend to collaborate and build good relationships. However, because of the amount of information they can access, they often suffer from anxiety or stress.
Some people might define Generation Z Americans as mature: Generally, they're socially responsible and tend to grow up fast.
---
Generaciones y tecnología: la Generación Z
De las generaciones que viven en Estados Unidos, una generación parece estar más relacionada con la última tecnología que las demás: la Generación Z
Nacidos entre 1995 y 2014, la generación Z es la generación posterior a la de los milenios. Los miembros de la generación Z han tenido teléfonos inteligentes, tablets y redes sociales todas sus vidas. Típicamente introducidos a la tecnología por sus padres, han utilizado un aparato tecnológico prácticamente desde su infancia.
Sin embargo, no todos los americanos de la generación Z tienen el mismo acceso a la tecnología debido a condiciones socioeconómicas. Aunque muchos de ellos poseen los últimos aparatos tecnológicos, muchos otros no pueden comprarlos y deben visitar bibliotecas para tener acceso a Internet.
Al mantener su dependencia con la tecnología, los americanos de la generación Z tienden a acudir a la Internet para encontrar respuestas a sus preguntas más que las otras generaciones. Específicamente, ellos acuden a los sitios de redes sociales. Entre los sitios de redes sociales que son populares con los americanos de la generación Z son, Snapchat, Instagram y Twitter.
Los americanos en la generación Z también son definidos típicamente como quienes son capaces de hacer múltiples tareas y pensadores realistas. También son definidos como más privados con respecto a la manera que comparten sus vidas en los medios sociales. Por ejemplo, ellos tienden a alejarse de Facebook debido a la presencia de "adultos" en el sitio de redes sociales.
Aunque ellos prefieren su privacidad en línea, los americanos de la generación Z también tienden a colaborar y formar buenas relaciones. Sin embargo, debido a la cantidad de información que pueden acceder, también sufren de ansiedad o estrés.
Algunas personas pueden definir a los americanos de la generación Z como maduros: generalmente, son socialmente responsables y tienden a crecer rápido.