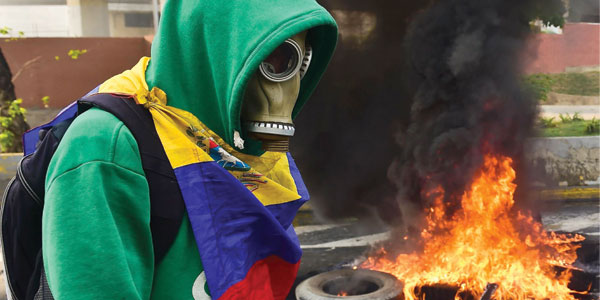 Commentary by Dermidio Juez-Perez
On July 5, Venezuela celebrated Independence Day.
Unfortunately, it wasn't a happy day for the South American country. Instead, another act of violence terrorized the nation.
An armed militia that follows and idolizes President Nicolas Maduro's communist regime forced its way into the Venezuelan National Assembly building in Caracas. Men and women armed with wooden sticks and metal bars attacked every opponent on their way.
Tragically, four lawmakers were seriously injured. Lawmaker Americo de Grazia was removed by a stretcher while suffering from convulsions.
"This doesn't hurt as much as watching how every day how we lose a little bit more of our country," Armando Aria, one of the four seriously insured lawmakers, told a local newscaster.
The special Independence Day session started with an out-of-the-ordinary set of events. Venezuelan Vice President Tareck El Aissami, who has repeatedly accused legislators of being a U.S.-backed conspiracy gang, made a surprise visit to the National Assembly. El Aissami raised the tension by claiming that global powers are again trying to subjugate Venezuela. He then stated: "We still haven't finished definitively breaking the chains of the empire." The vice president added that Maduro's plans to rewrite the constitution was the only way Venezuela would be independent.
Clearly, Venezuelans are suffering the consequences of extreme corruption and negligence that started with former President Hugo Chavez, and are continuing and worsening under Maduro. That corruption and negligence means more unhappy days are ahead for Venezuela.
______________________________________________________________________________________
Un infeliz Día de la Independencia para Venezuela
El miércoles 5 de julio, el país sudamericano de Venezuela celebró su día de la independencia. Desafortunadamente,éste no fue un día de felicidad para el país sudamericano. Más bien fue otro acto de violencia terrorista en la nación.
Una tropa armada que sigue e idolatra el régimen comunista del presidente Nicolás Maduro entró por fuerza al Congreso. Hombres y mujeres armados con palos y barras de metal atacaron a todos los oponentes que estaban en su camino.
Desafortunadamente, cuatro legisladores resultaron seriamente heridos y el congresista Américo de Grazia fue removido en una camilla mientras que sufría convulsiones.
El congresista Armando Aria, uno de los cuatro legisladores seriamente heridos, compartió con un noticiero local que «esto no duele tanto como mirar la manera en que todos los días perdemos un poquito más de nuestro país".
La sesión especial para el Día de la Independencia inició con una serie de eventos fuera de lo ordinario. El vicepresidente venezolano Tareck El Aissami, que ha acusado repetidamente a los legisladores de ser una pandilla de conspiración respaldada por Estados Unidos, hizo una visita sorpresa a la Asamblea Nacional.
El vicepresidente El Aissami elevó la tensión reclamando que los poderes globales están una vez más tratando de oprimir a Venezuela. Y continuó declarando «aún no hemos terminado de romper definitivamente las cadenas del imperio». Agregando que los planes del presidente Nicolás maduro para volver a escribir la constitución es la única manera en que Venezuela será verdaderamente independiente.
Venezuela y su gente está sufriendo las consecuencias de corrupción y negligencia extrema que se inició con el antiguo presidente Hugo Chávez y siguió y se empeoró con el presidente Nicolás Maduro.