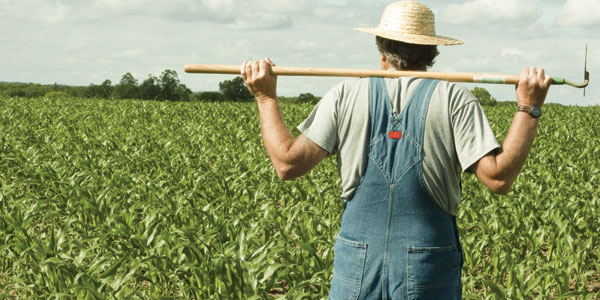 America's farmers and ranchers account for just two percent of the nation's population, but their impact is enormous. They supply our dairy products, poultry, meat, grains and produce, and through the flow of their products to other countries, they help shrink the U.S. trade deficit in the global marketplace. In 2015, $133.1 billion of agricultural products were exported around the world.
Each U.S. farm feeds 168 people a year, according to the American Farm Bureau Federation, and some 2.2 million agricultural laborers are needed for harvest. Somewhere between 46 and 70 percent are undocumented immigrants, estimates trade groups and the U.S. Labor Department. And immigrants make up 51 percent of dairy labor in the U.S., a National Milk Producers Federation survey showed in 2015. That year, dairies surveyed that employ immigrants produced 79 percent of the nation's total milk supply, Business Insider reported July 8.
For decades, U.S. farmers and ranchers have relied on laborers from Mexico. They employed immigrants both through the U.S. agricultural visa program (H-2A) and illegally. But over the past 10 years, that labor pool has been withering. More Mexican nationals have been leaving than arriving. Between 2009 and 2014 alone, one million Mexican immigrants and their families left the U.S. for Mexico, the Pew Research Center reports.
The nonpartisan think tank's researchers attributed the flight in part to stepped-up enforcement of immigration laws. The Obama administration deported about three million undocumented immigrants between 2009 and 2016.
During his first month in office, President Trump, who campaigned on a hardline immigration platform, issued two executive orders focused on immigration. The orders call for a border wall between Mexico and the U.S. and prioritizing the deportation of undocumented immigrants convicted or charged with a criminal offense. The Trump administration has ramped up border security and arrests of "at-large criminal aliens, illegal reentrants and immigration fugitives."
Irrespective of his crackdown on illegal immigration, Trump made two assurances to farm industry leaders at an April 25 meeting at the White House. He'd seek to prevent his immigration enforcement policies from harming the U.S. farm industry, he said, and he'd ensure farmers had ample access to farmworkers.
Despite the president's assurances, Wisconsin farmers say they've been visited by Immigration and Customs Enforcement agents who suggested the possibility of immigration raids, Minnesota Public Radio reported on July 3. Word got out, prompting immigrants fearing deportation to leave. During late April and May, some California farmers had to scrap part of their harvest for want of hands to pick it.
Because 2016 was the fifth consecutive year that the nation's agriculture industry has struggled with labor shortages, leaders are lobbying on behalf of foreign workers. And in Kansas and other states, farmers, ranchers, feedlots and dairies are pushing for a pathway to legalization for undocumented immigrants "to minimize the impact on current economic activity" and H-2A program reform.
Without sufficient workers, the price of milk could skyrocket to $6.40 a gallon, they warn; produce will rot in the fields; and small farms could go under. Fruit, vegetable and meat production could drop precipitously, raising consumer food prices.
Food production concerns everyone; we all eat. 
__________________________________________________________________________________________
Los agricultores y granjeros de Estados Unidos representan sólo el 2% de la población del país, pero su impacto es enorme. Ellos abastecen nuestros productos lácteos, de aves, carnes, granos y verduras, y mediante el flujo de sus productos hacia otros países, ayudan a reducir el déficit comercial de Estados Unidos en el mercado global. En el 2015, 133.1 mil millones de productos agrícolas fueron exportados alrededor del mundo.
Cada granja de Estados Unidos alimenta a 168 personas al año, de acuerdo con la Federación del Departamento de Agricultura Americana y unos 2.2 millones de trabajadores agrícolas son necesarios para la cosecha. Entre un 46 y 70 por ciento de ellos son inmigrantes indocumentados, calculan los grupos comerciales y el Departamento de Labor de Estados Unidos y los inmigrantes componen el 51% de la labor de productos lácteos en Estados Unidos, lo demostró una encuesta de la Federación Nacional de Productores de Leche en el 2015. Ese año, las lecherías encuestadas que emplean a inmigrantes produjeron el 79 por ciento del abastecimiento de leche total del país, lo reportó el Business Insider el 8 de julio.
Por décadas, los agricultores y granjeros de Estados Unidos han dependido de los jornaleros de México. Ellos emplearon a inmigrantes mediante el programa de visa agrícola e ilegalmente. Pero durante de los últimos 10 años, el grupo laboral se ha debilitado. Un mayor número de mexicanos se están yendo en lugar de venir. Solamente entre el 2009 y el 2014, un millón de inmigrantes mexicanos y sus familias abandonaron Estados Unidos para irse a México, reporta el Centro de investigación Pew.
Los investigadores independientes atribuyen la escapada en parte a las intensificadas leyes de inmigración. La administración de Obama deportó a unos 3 millones de inmigrantes indocumentados entre el 2009 y el 2016.
Durante su primer mes en el poder, el presidente Trump, quien hizo una dura campaña contra la inmigración, emitió dos órdenes ejecutivas enfocadas en la inmigración. Las órdenes piden un muro entre la frontera de México y Estados Unidos y dar prioridad a la deportación de inmigrantes indocumentados convictos o acusados de una ofensa criminal. La administración de Trump ha incrementado la seguridad en la frontera y arrestos de "extranjeros criminales en general, personas que vuelven a entrar al país ilegalmente y fugitivos de inmigración". Sin consideración de su medida enérgica contra la inmigración ilegal, Trump hizo dos garantías a los líderes de la industria agrícola en una reunión el 25 de abril en la Casa Blanca. Él trataría de evitar que sus políticas de inmigración dañaran a la industria agrícola de Estados Unidos, dijo él, y aseguraría a los agricultores tener amplio acceso a trabajadores agrícolas.
A pesar de las garantías del Presidente, los agricultores de Wisconsin dicen que tuvieron la visita de agentes de inmigración quienes hablaron de la posibilidad de redadas de inmigración, lo reportó la radio pública de Minnesota el 3 de julio. La noticia se esparció, impulsando a que se marcharan los inmigrantes que temen la deportación. A finales de abril y mayo, algunos agricultores de California tuvieron que desechar parte de su cosecha por falta de manos para recogerla.
Debido a que el 2016 fue el quinto año consecutivo que la industria de la agricultura del país ha luchado contra la escasez de mano de obra, los líderes están ejerciendo presión a nombre de trabajadores extranjeros. Y en Kansas y otros estados, los agricultores, granjeros, corrales de engorda y lecherías están presionando para tener un camino a la legalización de inmigrantes indocumentados "para disminuir el impacto en la actividad económica" y una reforma del programa H -2A
Sin suficientes trabajadores, el precio de la leche podría dispararse por las nubes a $6.40 el galón, advierten ellos; las verduras se pudrirán en los campos y las pequeñas granjas se irían abajo. La producción de frutas, vegetales y carnes podría disminuir precipitosamente, aumentando los precios de la comida.
La producción de los alimentos nos preocupa a todos; todos comemos.