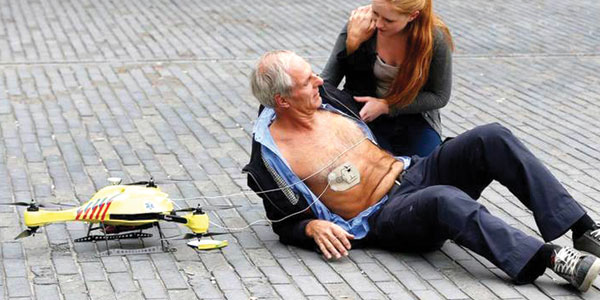 By Melissa Arroyo
The time it takes for an ambulance to arrive can be critical.
To address that issue, several engineers around the world are designing ambulance drones to deliver medical supplies to an emergency scene or fly patients from the scene faster and help save lives.
One prototype, called the Ambulance Drone, can be dispatched throughout a given city and fly to its destination while avoiding construction areas, closed streets or traffic. Equipped with a flying defibrillator, the Ambulance Drone is being built with the intention of being used by anyone at the scene to help someone affected by a heart attack while a camera and speaker allow a doctor off-site to provide instructions.
Ambulance Drone prototypes have been tested by a team of researchers in Sweden in an area with a 6.2-mile radius. The prototypes can arrive at the scene in 5 minutes, 22 seconds. By comparison, a traditional ambulance van or truck takes 22 minutes to arrive.
Work on a prototype for a military emergency drone, AirMule, also is underway. The drone could help carry wounded soldiers away from the battlefield and be able to fit in tighter, urban spaces easier than an ambulance van or truck.
The Austin, Texas-based design firm Argodesign has designed an unmanned ambulance drone that could fly over rural areas, buildings and fly individuals in serious car accidents to the nearest hospital. The drone is designed to be small enough to land on a highway, residential street or parking lot.
More research, along with a creation of processes and emergency response plans, are expected before drones are utilized in emergency situations.
---
Drones de Ambulancia se están desarrollando para entregar ayuda más rápido, salvar vidas
El tiempo que tarda una ambulancia para llegar puede ser crítico.
Para abordar esta cuestión, varios ingenieros de todo el mundo están diseñando drones de ambulancia para entregar suministros médicos a una escena de emergencia o volar a los pacientes de la escena más rápido y ayudar a salvar vidas.
Un prototipo, llamado Ambulance Drone, puede ser despachado por toda la ciudad y volar a su destino evitando áreas de construcción, calles cerradas o tráfico. Equipado con un desfibrilador de vuelo, el Ambulance Drone está construido con la intención de ser utilizado por cualquier persona en la escena para ayudar a alguien afectado por un ataque al corazón, mientras que una cámara y un altavoz permiten a un médico fuera del sitio proporcionar instrucciones.
Los prototipos de Ambulancia Drone han sido probados por un equipo de investigadores en Suecia en un área con un radio de 6,2 millas. Los prototipos pueden llegar a la escena en 5 minutos, 22 segundos. En comparación, una ambulancia tradicional tarda 22 minutos en llegar.
El trabajo en un prototipo para un avión militar de emergencia, AirMule, también está en marcha. El drone podría ayudar a llevar soldados heridos fuera del campo de batalla y ser capaz de encajarse en espacios más estrechos, o urbanos más fácil que una camioneta de ambulancia o un helicóptero.
La firma de diseño Argodesign, con sede en Austin, Texas, ha diseñado un avión no tripulado de la ambulancia que podría volar sobre áreas rurales, edificios y volar a individuos en accidentes automovilísticos serios al hospital más cercano. El drone está diseñado para ser lo suficientemente pequeño para aterrizar en una carretera, calle residencial o estacionamiento.
Se espera más investigación, junto con una creación de procesos y planes de respuesta de emergencia, antes de que los drones sean utilizados en situaciones de emergencia.