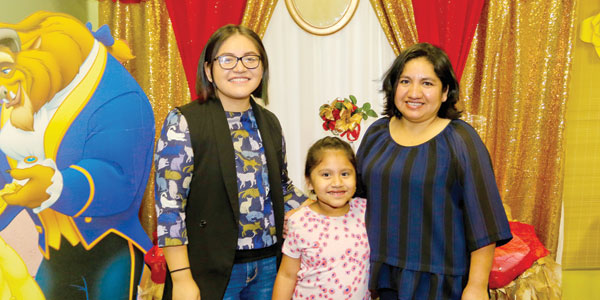 Story by Melissa Arroyo and photos by Michael Alvarado
On July 13, Abi Rodriguez, her family, members of the community and the Hispanic Chamber of Commerce of Greater Kansas City attended the ribbon-cutting ceremony for Balloon Shop Inc., located at 541 Central Ave. in Kansas City, Kan.
Originally opened on June 10, Balloon Shop is the fulfillment of a Rodriguez family dream. The family wanted to provide customers with their preferred party supplies and decorations for special occasions, along with the best decorating advice for their budgets.
The entrepreneurial spirit has existed in the family for years. Rodriguez's parents had learned plenty about balloon decorations and provided party decorating services to the community. Rodriguez also owns and manages a commercial cleaning franchise, where she learned to develop professional business skills.
But occasionally, Rodriguez said she experienced obstacles along the way, from getting noticed as a young entrepreneur to navigating the waters of starting a new business.
"As a young entrepreneur, my experience was probably different from others because I had to learn along the way," she said. "I didn't have any knowledge of opening up a business…. Halfway through the process, I was no longer scared to introduce myself as a (business owner) because I … (had) accomplished so much."
After several months of dedication, diligence and support from friends and family, Rodriguez is hoping to open another location to offer products directly from Mexico and help people who want to learn how to decorate.
"There are so many people in (the Kansas City area) that have a party (at least) once a year," she said. "So one of our next goals is to have classes here that teach someone how to properly build a balloon arch or anything with balloon art and price it well."
To learn more about Balloon Shop Inc., visit the store's Facebook page at Facebook.com/BalloonShopInc/.
---
Joven empresaria inaugura Balloon Shop en KCK
El 13 de julio, Abi Rodríguez, su familia, miembros de la comunidad y la Cámara de Comercio Hispana de Greater Kansas City asistieron a la ceremonia de corte de cinta para Balloon Shop Inc., ubicada en 541 Central Ave. en Kansas City, Kan.
Originalmente inaugurado el 10 de junio, Balloon Shop es el cumplimiento de un sueño familiar de Rodríguez. La familia quería proporcionar a los clientes con sus suministros de fiesta preferido y decoraciones para ocasiones especiales, junto con el mejor consejo de decoración para sus presupuestos.
El espíritu emprendedor ha existido en la familia desde hace años. Los padres de Rodríguez habían aprendido mucho acerca de las decoraciones con globos y ofrecieron servicios de decoración de fiestas a la comunidad. Rodríguez también posee y administra una franquicia de limpieza comercial, donde aprendió a desarrollar habilidades profesionales de negocios.
Pero de vez en cuando, Rodríguez dijo que experimentó obstáculos a lo largo del camino, desde ser notada como una joven empresaria a navegar por las aguas de iniciar un nuevo negocio.
"Como joven empresaria, mi experiencia fue probablemente diferente de otras porque tuve que aprender en el camino", dijo. "Yo no tenía ningún conocimiento de abrir un negocio …. A mitad del proceso, ya no tenía miedo de presentarme como una (empresaria) porque yo … (había) logrado tanto. "
Después de varios meses de dedicación, diligencia y apoyo de amigos y familiares, Rodríguez espera abrir otro lugar para ofrecer productos directamente desde México y ayudar a personas que quieran aprender a decorar.
"Hay tanta gente en (el área de Kansas City) que tiene una fiesta (al menos) una vez al año", dijo. "Así que uno de nuestros próximos objetivos es tener clases aquí para enseñar a alguien cómo construir adecuadamente un arco de globos o cualquier cosa con arte de globos y a un buen precio".
Para obtener más información sobre Balloon Shop Inc., visite la página de Facebook de la tienda en Facebook.com/BalloonShopInc/.