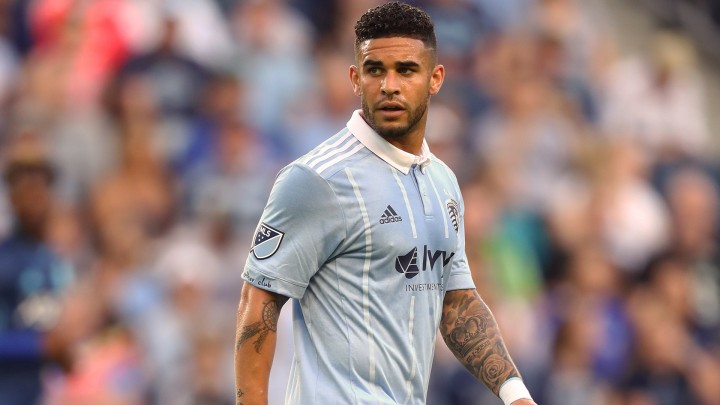 MLSSOCCER.COM
Sporting Kansas City cambió el delantero Dom Dwyer a Orlando City SC el martes en un acuerdo de récord.
El delantero del equipo nacional de EE. UU. Fue traspasado a Orlando por $ 400,000 en dinero de asignación general, $ 500,000 en dinero asignado de asignación y $ 700,000 en dinero de asignación futura basado en el rendimiento. En total, el paquete comercial podría alcanzar 1,6 millones de dólares en fondos de asignación, un nuevo récord para la MLS.
El anterior se estableció cuando Orlando trató a Kevin Molino ante el Minnesota United FC antes de la temporada por $ 450,000 en General Allocation Money y $ 200,00 en Target Target Allocation Money.
Dwyer anotó un récord de club de 22 goles en 2014 y deja al Sporting KC con 57 goles en 128 partidos. Sus 55 goles desde el comienzo de la temporada 2014 son los segundos más en la MLS, detrás de sólo el delantero de New York Red Bulls Bradley Wright-Phillips.
---
Sporting Kansas City traded forward Dom Dwyer to Orlando City SC on Tuesday in a blockbuster, record-breaking deal.
The US national team striker was traded to Orlando for $400,000 in General Allocation Money, $500,000 in Targeted Allocation Money, and $700,000 in future allocation money based on performance. In total, the trade package could reach $1.6 million in allocation monies, a new record for MLS.
The previous the record set when Orlando dealt Kevin Molino to Minnesota United FC before the season for $450,000 in General Allocation Money and $200,00 in Targeted Allocation Money.
Dwyer scored a club record 22 goals in 2014 and leaves Sporting KC with 57 goals in 128 games. His 55 goals since the start of the 2014 season are the second-most in MLS, behind only New York Red Bulls striker Bradley Wright-Phillips.
The 5-foot-9 forward was named to the 2017 MLS-All Star team last week, as he was picked by MLS Commissioner Don Garber. In 15 games this season, he has scored five goals.
Dwyer recently returned from national team duty with USA, where he scored goals in his first two appearances. He became a US citizen in March and received his first call-up ahead of the Gold Cup. He scored in the US's opening game of the tournament against Panama.
"Our group has worked hard to find potential additions to the club and we are thrilled to finalize this deal and add an important piece to the roster in Dom," Orlando City SC CEO Alex Leitão said in a release. "Dom is a fantastic player who recently gave us a glimpse of what he is capable of with the US national team and will keep doing so with the club and at the MLS All-Star Game next week."
Orlando has struggled recently, having lost three of their last four. Their 22 goals are the third-fewest in MLS, despite having MLS All-Star Kaká and star striker Cyle Larin.
Sporting KC are currently in second place in the Western Conference, behind only FC Dallas. This is despite scoring just 25 goals, the fewest of any team currently above the playoff line. There are reports that the club is working on bringing in another attacking threat, in addition to Gerso, Latif Blessing, Diego Rubio, Daniel Salloi and Soony Saad.
"Dom has been a great player on the field and a tremendous ambassador off of it for this organization," Sporting KC manager Peter Vermes said in a release. "We thank him for that and wish him nothing but the best.
"It is important to understand that when an organization is successful, individuals are going to be highly sought after by other clubs. Understandably, the salary cap world of sports does not enable you to keep everyone on your roster forever. So as the ever-changing and fluid roster continues to evolve, moves like this can occur.
"This organization is committed to consistently fielding a highly competitive team and pursuing every trophy attainable."