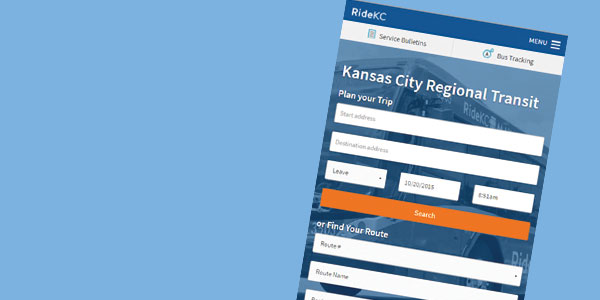 By Melissa Arroyo
The Kansas City Area Transportation Authority (KCATA) has a new mobile app to help bus riders board buses quickly, without having to scramble for exact change or finding their wallet.
Launched on July 10, the free app is available for Apple and Android. It will allow riders to buy bus passes, plan their trips and track their ride status.
The RideKC app accepts payments from Discover, Visa and MasterCard. It can be used on any Kansas City area route, including Johnson County, Kan.; Wyandotte County, Kan.; and Independence, Mo., buses.
"The early response to this app has been tremendous," said Robbie Makinen, KCATA president and CEO. "Many people tell us this technology will allow them to ride transit more easily. This will provide a great benefit for visitors, people who ride every once in a while, as well as frequent riders."
The app is undergoing a six-month pilot program where user feedback will help apply improvements to the mobile app. Although the app has been well-received by much of the community, some users have expressed concerns in the app store, claiming that the application malfunctions, requests too much personal information and still needs more development.
Expanding real-time tracking services is one improvement the KCATA might make. According to a KCATA press release, real-time tracking of buses isn't available yet for Johnson County, Wyandotte County or Independence buses.
To learn more and download the app, visit ridekc.org.
__________________________________________________________________________________
KCATA lanza una aplicación para móviles
La Autoridad de Transporte del Área de Kansas City (KCATA) tiene una nueva aplicación móvil para ayudar a los pasajeros de autobuses a abordar los autobuses rápidamente, sin tener que batallar por el cambio exacto o encontrar su cartera.
Lanzado el 10 de julio, la aplicación gratuita está disponible para Apple y Android. Permitirá a los pasajeros comprar pases de autobús, planificar sus viajes y seguir su estado de conducción.
La aplicación RideKC acepta pagos de Discover, Visa y MasterCard. Se puede utilizar en cualquier ruta del área de Kansas City, incluyendo los autobuses del condado de Johnson, Kan .; Wyandotte County, Kan .; Y de Independence, Mo.
"La respuesta temprana a esta aplicación ha sido tremenda", dijo Robbie Makinen, presidente y CEO de KCATA. "Mucha gente nos dice que esta tecnología les permitirá viajar en tránsito más fácilmente. Esto proporcionará un gran beneficio para los visitantes, las personas que viajan de vez en cuando, así como los pasajeros frecuentes. "
La aplicación está experimentando un programa piloto de seis meses en el que la retroalimentación de los usuarios ayudará a aplicar mejoras a la aplicación para dispositivos móviles. Aunque la aplicación ha sido bien recibida por gran parte de la comunidad, algunos usuarios han expresado sus preocupaciones en el App Store, alegando que la aplicación funciona incorrectamente, solicita demasiada información personal y todavía necesita más desarrollo.
La ampliación de los servicios de seguimiento en tiempo real es una mejora que el KCATA podría hacer. Según un comunicado de prensa de KCATA, el seguimiento en tiempo real de los autobuses aún no está disponible para los autobuses del Condado de Johnson, Wyandotte County o Independence.
Para obtener más información y descargar la aplicaciónn, visite ridekc.org.