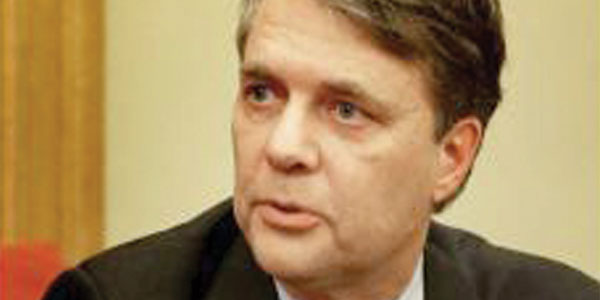 By Melissa Arroyo
Kansans might soon have a new governor.
Lt. Gov. Jeff Colyer, a Republican from Hays, will succeed Gov. Sam Brownback once the U.S. Senate approves Brownback's nomination to become ambassador at large for international religious freedom. Nominated by President Trump, Brownback will be expected to oversee a team of 25 people within the Department of State in Washington, D.C., and to assist on matters of religious freedom policy worldwide.
Critics of Brownback will argue that he's leaving the state in questionable shape for his successor, as evidenced by such issues as the Kansas budget deficit, an unconstitutionally low budget on education and looser gun regulations.
Colyer, a surgeon, joined the Kansas government in 2006 and led the efforts to privatize Medicaid, now known as KanCare. He also has led the state on such issues as taxes, fiscal budgeting and healthcare policy.
Recently, the state government shared a statement by Colyer, thanking Brownback for his work and embracing the opportunity to be the next governor.
"Sam Brownback has served our state and our citizens with distinction," the statement read. "I will be forever grateful for his service…. I look forward to working with Kansans from across the state (and) listening to their vision for the future."
At press time, the official date of Brownback's Senate confirmation remained uncertain.
---
Colyer remplazará al governador Brownback, pendiente de la aprobación del Senado
Los residentes de Kansas pronto podría tener un nuevo gobernador.
El teniente gobernador Jeff Colyer, republicano de Hays, remplazará al gobernador Sam Brownback una vez que el Senado de los Estados Unidos apruebe la nominación de Brownback para convertirse en embajador en general para la libertad religiosa internacional. Nominado por el presidente Trump, Brownback se espera que supervise a un equipo de 25 personas dentro del Departamento del Estado en Washington, D.C., y para ayudar en asuntos de política de libertad religiosa en todo el mundo.
Los críticos de Brownback argumentarán que está dejando el estado en forma cuestionable para su sucesor, como lo demuestran cuestiones como el déficit presupuestario de Kansas, un presupuesto inconstitucionalmente bajo en educación y regulaciones de armas muy leves.
Colyer, un cirujano, se unió al gobierno de Kansas en el 2006 y dirigió los esfuerzos para privatizar Medicaid, ahora conocido como KanCare. También ha liderado al estado en temas tales como impuestos, presupuestos fiscales y políticas de salud.
Recientemente, el gobierno del estado compartió una declaración de Colyer, agradeciendo a Brownback por su trabajo y emocionado por la oportunidad de ser el próximo gobernador.
"Sam Brownback ha servido a nuestro estado y a nuestros ciudadanos con distinción", dice el comunicado. "Estaré eternamente agradecido por su servicio …. Espero trabajar con residentes de Kansas de todo el estado (y) escuchar su visión para el futuro ".
En la publicación de este artículo, la fecha oficial de la confirmación del Senado de Brownback es incierta.