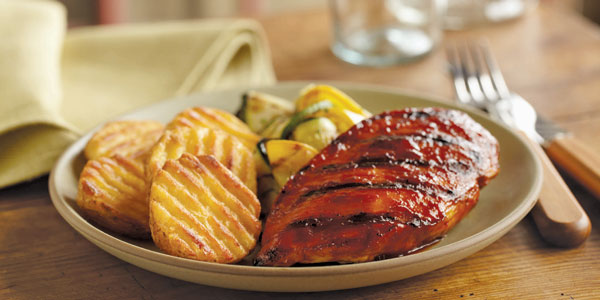 (Family Features) Preparar una comida en la parrilla puede ser un momento de diversión familiar. Reúna a los niños e involúcrelos en la preparación de la comida desde el principio hasta el fin, como forma sencilla de pasar más tiempo juntos.
Rebecca P. Cohen, autora de 15 Minutes Outside: 365 Ways to Get Out of the House and Connect with Your Kids (15 minutos al aire libre: 365 formas de salir de su casa y vincularse con sus hijos), es una gran creyente del tiempo al aire libre en familia. "Salimos todos los días. Es importante pasar tiempo de calidad en familia, y una actividad al aire libre como cocinar a la parrilla es una excelente propuesta", destaca Cohen.
Cohen ofrece algunos consejos para disfrutar comidas divertidas al aire libre en familia:
• Prepare un bar de aderezos: coloque un mantel plástico y algunas salsas para los niños, condimentos y otros ingredientes como ketchup, queso rallado, mayonesa y hummus. Deje que los niños preparen sus aderezos y condimentos favoritos y que los coloquen en recipientes coloridos.
• Prepare comidas fáciles de hacer en la parrilla: busque comidas y recetas que se pueden preparar directamente en la parrilla, tales como los nuevos Grillers de Ore-Ida®. Estas gruesas y redondas rebanadas de papa pasan del congelador a la parrilla, en donde se cocinan en tan solo 15 minutos y combinan a la perfección con sus aderezos y condimentos favoritos. ¡De esta forma pasará menos tiempo en su casa preparando la comida y más tiempo al aire libre disfrutando de su familia!
• Diviértase: disfrute de una comida al aire libre en familia. Aproveche al máximo el tiempo de cocción al incorporar actividades simples y divertidas. Corra carreras con cubos de hielo en cucharas o lance un refrescante cubo de hielo de unos a otros. Otra idea refrescante: congele jugo de fruta en un recipiente para cubos de hielo y coloque paletas para helado.
• Disfrute de un refrigerio a la parrilla: para una noche especial, prepare galletas con malvaviscos y chocolate en la parrilla. Pruebe malvaviscos de sabores como chocolate, fresa y coco tostado, o espolvoree las galletas con canela y azúcar. Intente nombrar las constelaciones mientras disfruta de un refrigerio nocturno bajo las estrellas.
¿Quién no desea quince minutos adicionales para pasar en familia y con los amigos? Reúnalos alrededor de la parrilla con estas y otras recetas de www.OreIda.com.
Pollo glaseado y Grillers
Tiempo de preparación: 3 minutos
Tiempo de cocción: 15 minutos
Porciones: 6 a 8
1 bolsa de Grillers de Ore-Ida
1botella (10 onzas) de salsa Heinz 57
1/4 taza de miel
8 pechugas de pollo a la mitad sin hueso ni piel
Coloque las Grillers en una parrilla caliente. Cocine según las indicaciones del paquete.
En un recipiente mediano, mezcle la salsa y la miel.
Ase el pollo a temperatura media por 4 a 6 minutos. Agregue abundante salsa a ambos lados del pollo, voltee y ase por 4 a 6 minutos adicionales, o hasta que se cocine al punto deseado.
Cocine hasta que el pollo ya no esté rosado o cuando alcance una temperatura interna de 165 °F.
Grillers de papa rellenos
Tiempo de cocción: 15 minutos
Porciones: 6
18 Grillers de Ore-Ida
1/2 taza de queso cheddar rallado
1/4 taza de tocino en trocitos
Cebollinos
Crema agria
Prepare las Grillers según las indicaciones del paquete.
Después de 12 minutos, espolvoree queso uniformemente (al gusto).
Ase por 3 minutos adicionales, para derretir el queso.
Sirva en un plato, adorne con tocino en trocitos, cebollines y crema agria al gusto.