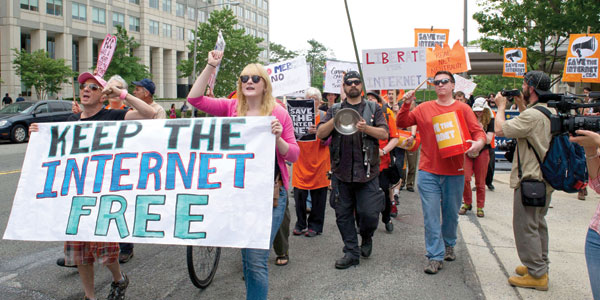 Commentary by Melissa Arroyo
Some of the freedoms and privileges you enjoy when surfing the internet might soon disappear.
Internet service providers (ISPs) such as Verizon and Comcast could soon have the right to dictate what websites you visit, as the Trump administration seeks to roll back the net neutrality policies put in place in 2015 by the Obama administration.
Net neutrality is a policy forbidding ISPs from placing preference on online companies that pay to be accessed faster than the competition. Overseen by the Federal Communications Commission (FCC), the new FCC chairman Ajit Pai has been a prominent opponent of net neutrality and has promised to undo net neutrality, letting ISPs charge online companies to "get on the fast lane."
To provide more context, rolling back net neutrality would not only allow ISPs to favor some online companies over others; it also would allow them to favor their own content. For example, Google Fiber could block access to Bing and favor Google Search. And it would allow them to slow down the speed to access sites and apps that interfere with their business, and block and censor websites with which they don't agree.
I don't know about you, but visiting a slow website is a painful experience for me. That, however, might soon become the norm.
Several digital rights defenders, along with companies such as Amazon and Netflix, have protested the FCC's decision to undo net neutrality – and rightly so. They're calling the decision a threat to a free and open internet.
As the FCC prepares to undo net neutrality in the next few weeks, I encourage you to stay informed about the future of our internet. To learn more about net neutrality, there are various digital rights and freedom of speech organizations you can follow on social media, including the Electronic Frontier Foundation, the American Civil Liberties Union and Fight for the Future.
You owe it to yourself to know what your online freedoms and privileges are – and what you can do to help protect them.
---
Manténgase informado sobre la neutralidad de la red
Algunas de las libertades y privilegios que disfrutas al navegar el internet podrían desaparecer pronto.
Los proveedores de servicios de Internet (ISP) como Verizon y Comcast pronto tendrían el derecho de dictar qué sitios web visitan sus usuarios, ya que la administración Trump busca revertir las políticas de neutralidad de la red implementadas en 2015 por la administración de Obama.
La neutralidad de la red es un principio que prohíbe a los ISPs colocar preferencia en las compañías en línea que pagan para ser accedidas más rápidamente que la competencia. Supervisado por la Comisión Federal de Comunicaciones (FCC), el nuevo presidente de la FCC, Ajit Pai, ha sido un destacado oponente de la neutralidad de la red y ha prometido deshacer la neutralidad de la red, permitiendo a los ISPs cobrar a las compañías en línea para "ponerse en el carril rápido".
Para proporcionar más contexto, la neutralidad de la red no sólo permitiría a los proveedores de servicios de Internet favorecer a algunas empresas en línea en detrimento de otras; También les permitiría favorecer su propio contenido. Por ejemplo, Google Fiber podría bloquear el acceso a Bing y favorecer la búsqueda de Google. Y les permitiría frenar la velocidad para acceder a sitios y aplicaciones que interfieren con su negocio, y bloquear y censurar sitios web con los que no están de acuerdo.
No sé tu, pero visitar un sitio web lento es una experiencia dolorosa para mí. Eso, sin embargo, pronto podría convertirse en la norma.
Varios defensores de derechos digitales, junto con compañías como Amazon y Netflix, han protestado contra la decisión de la FCC de deshacer la neutralidad de la red, y con razón. Están llamando a la decisión una amenaza a un Internet libre y abierto.
A medida que la FCC se prepara para deshacer la neutralidad de la red en las próximas semanas, te animo a mantenerte informado(a) sobre el futuro de nuestro internet. Para obtener más información sobre la neutralidad de la red, hay varias organizaciones de derechos digitales y libertad de expresión que puede seguir en las redes sociales, incluyendo la Fundación Frontera Electrónica, la Unión Americana de Libertades Civiles y Fight for the Future.
Te lo debes a ti mismo conocer tus libertades y privilegios en línea – y lo que puedes hacer para ayudar a protegerlos.