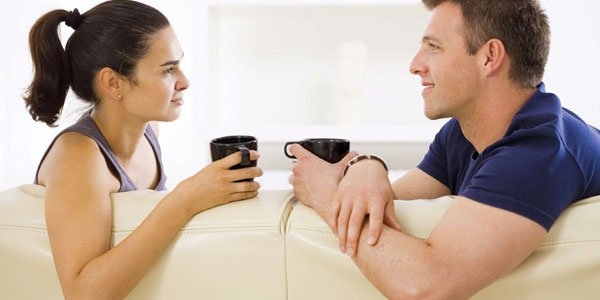 Commentary by Melissa Arroyo
You've probably been frustrated if you've ever asked your significant other to take out the trash or pick up the kids from school, only to end up doing the job yourself. How you communicate your frustration with your partner afterward is important.
The way you express yourself could get your point across. Or it could negatively affect the relationship.
Couples have their own styles of conversation and ways of resolving conflict. Still, there are certain elements of effective conversation that are often ignored. Here are a few tips to keep in mind when expressing your frustration to your partner:
*Use "I" statements: This is a skill that couples counselors often teach their clients, because it helps express feelings without sounding accusatory. For example, instead of saying, "Why don't you ever take out the trash? You said you would do it!" say something like, "I'm feeling overwhelmed with chores and I feel better when I don't have to worry about taking out the trash. Will you please help me out next week?" This also helps the other person understand that they need to step up.
*Reflective listening: A large portion of effective communication comes down to listening. But the key is to show you're listening. An effective type of listening is reflective listening, in which you paraphrase and restate both the feelings and words of the other person to show you understand what your partner is saying. This type of listening encourages each person to continue communicating until reaching a solution.
The next time you find yourself trying to confront your significant other about a minor or major issue, try using "I" statements and reflective listening. Chance are, you'll find that you've made your point effectively, rather than hurt your relationship.
---
Cómo mejorar la comunicación con su pareja
Probablemente has sentido frustración si alguna vez le has pedido a tu pareja que saque la basura o recoja a los niños de la escuela, para terminar haciendo el trabajo tú mismo/a. El siguiente paso en comunicar tu frustración con tu pareja es importante.
La forma en la que te expresas podría llegar a tu punto de vista. O podría afectar negativamente a la relación.
Las parejas tienen sus propios estilos de conversación y formas de resolver conflictos. Sin embargo, hay ciertos elementos de la conversación eficaz que a menudo se ignoran. Aquí hay algunos consejos para tener en cuenta al expresar su frustración a su pareja:
* Utilice las declaraciones de "Yo": Esta es una habilidad que los consejeros de parejas suelen enseñar a sus clientes, porque ayuda a expresar sentimientos sin sonar acusatorios. Por ejemplo, en lugar de decir: "¿Por qué nunca sacas la basura? Dijiste que lo harías ", di algo como: "Me siento abrumado/a por las tareas y me siento mejor cuando no tengo que preocuparme por sacar la basura. ¿Podrías ayudarme la semana que viene, por favor? "Esto también ayuda a la otra persona a comprender que necesitan estar al tanto de sus tareas.
* Escucha reflexiva: Una gran parte de la comunicación efectiva se reduce a escuchar. Pero la clave es demostrar que estás escuchando. Un tipo eficaz de escucha es la escucha reflexiva, en la que parafrasear y reafirmar los sentimientos y las palabras de la otra persona para mostrar que entiendes lo que tu pareja está diciendo. Este tipo de escucha anima a cada persona a continuar comunicándose hasta llegar a una solución.
La próxima vez que te encuentres tratando de confrontar a tu pareja acerca de un problema menor o mayor, trata de usar declaraciones de "yo" y escuchar con reflexión. Es probable que te llegues a comunicar de manera efectiva y mejorar tu relación.