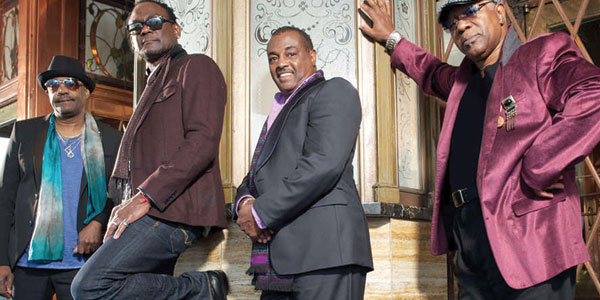 KANSAS CITY, Mo. (Monday, August 21, 2017) – The Kansas City Power & Light District presents Grammy award-winning R&B legends Kool & the Gang on the KC Live! Stage, Friday, August 25, 2017, as part of the 2017 District Rhythms concert series.
Performing together for over four decades, Kool & the Gang members Robert "Kool" Bell, Ronald "Khalis" Bell, George "Funky" Brown and Dennis "Dee Tee" Thomas have delighted fans across the globe with their special blend of R&B, funk and jazz music. The group has influenced the music of three generations, earning them two Grammy Awards, seven American Music Awards, 25 Top Ten R&B hits, nine Top Ten Pop hits, and 31 gold and platinum albums. Their signature arrangements have made them one of the most sampled bands in music today.
Debra Lunn, known as "Lady D" has garnered a loyal Kansas City fan base she affectionately calls "The Family". Kansas City music lovers have followed "Lady D" over the years to hear her special mix of jazz, Old School R&B and Blues music. With on-stage appearances with noted entertainers such as Brian McKnight, Najee and Peabo Bryson, "Lady D" welcomes the opportunity to bring her band to the KC Live! Stage this Friday and encourages concert-goers to "get in the mix and become part of "The Family" stating, "It's always reunion time whenever "The Family" gets together".
Featuring the "Kharizmatic Horns", the 10-piece Kharizmah show band delivers hard-hitting, well-choreographed music performances that combine Old School R&B cover songs with some of today's top sounds in funk and dance music. Past performances include the GEM Theater and the American Jazz Museum in Kansas City and the Rock & Roll Hall of Fame Museum in Cleveland, Ohio.
General admission tickets are on-sale now for $20 (in advance) and are $25 day of the show. Special VIP Terrace ticket packages are available for $50 (in advance). VIP Terrace tickets include specially-prepared appetizers, a dedicated viewing area on the second level of KC Live!, private rest rooms and exclusive access to the Mosaic Lounge patio and bar throughout the show.
Families welcome. Concert admission begins at 6:00pm, with show time at 8 p.m. Anyone under the age of 21 must be accompanied by a parent or legal guardian. Only guests 21 years of age or older will be admitted after 9 p.m. For more information, visit www.powerandlightdistrict.com.