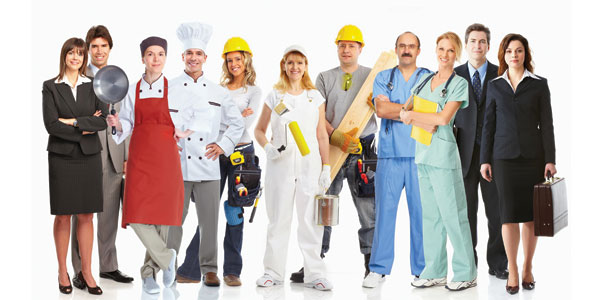 By Melissa Arroyo
Although employers are required by law to provide safe work environments for their employees, injuries, illnesses and deaths are still taking place – and are often unreported.
In 2015 alone, 4,836 workers were killed on the job in the United States – about 13 deaths per day, according to the Bureau of Labor Statistics.
To help lower on-the-job fatalities, illnesses and mishaps, Dessiree Prieto, workforce development coordinator at El Centro Inc., is hosting safety and rights awareness workshops for Hispanic workers in the Kansas City area. According to Prieto, sometimes workers ignore the possible dangers of their jobs, causing themselves harm that could've been avoided.
"There are two situations: from employers who are not looking out for their workers and workers who are not taking control of the risks…. It's important for them to have the necessary training – and in their preferred language," Prieto said.
Now in their third year, the safety workshops have raised awareness about how to report an injury with the Department of Labor's Occupational Safety and Health Administration (OSHA), how to stay safe at work and other resources that could help them with work-related issues, according to Prieto.
Prieto wants to encourage workers to take action through the workshops and to contact El Centro if a worker has experienced an accident while on the job. For OSHA to investigate, a worker must file a report no more than 30 days after the incident.
"Attendees are placing their trust in us," Prieto said. "And they have participated well during our training sessions, as well as passing the information along to others who could use it."
The next free workshop is scheduled for 5:30-7:45 p.m. on Sept. 14 at the Johnson County (Kan.) Public Library, located at 9875 W. 87th St. in Overland Park.
For more information about the workshops, call Prieto at El Centro at (913) 677-0100 or email dprieto@elcentroinc.com.
---
El Centro organiza talleres sobre derechos de los trabajadores y seguridad
Aunque los empleadores están obligados por ley a proporcionar ambientes de trabajo seguros para sus empleados, las lesiones, las enfermedades y las muertes se siguen produciendo – y a menudo no se denuncian.
Sólo en 2015, 4.836 trabajadores murieron en el trabajo en los Estados Unidos – alrededor de 13 muertes por día, según la Oficina de Estadísticas Laborales.
Para ayudar a reducir las muertes en el trabajo, las enfermedades y los accidentes, Dessiree Prieto, coordinadora de desarrollo de la fuerza laboral en El Centro Inc., organiza talleres de seguridad y educación sobre los derechos de los trabajadores hispanos en el área de Kansas City. Según Prieto, a veces los trabajadores ignoran los posibles peligros de sus puestos de trabajo, causando daños que podrían haberse evitado.
"Existen dos partes; desde los empleadores que no están velando por la seguridad de sus empleados y los empleados que no están tomando control de estos riesgos. Es importante que el empleador lleve a cabo el entrenamiento necesario en su idioma, suponiendo que entiendan más un idioma en ves del otro", dijo Prieto.
Ahora en su tercer año, los talleres de seguridad han aumentado la conciencia sobre cómo reportar una lesión con la Administración de Seguridad y Salud Ocupacional (OSHA) del Departamento de Trabajo, cómo mantenerse a salvo en el trabajo y otros recursos que podrían ayudarles con asuntos relacionados con el trabajo , según Prieto.
Prieto quiere animar a los trabajadores a tomar acción a través de los talleres y contactar con El Centro si un trabajador ha sufrido un accidente mientras estaba en el trabajo. Para que OSHA investigue, un trabajador debe presentar un reporte no más de 30 días después del incidente.
"Las personas están depositando su confianza en nosotros," dijo Prieto. "Y han participado muy bien en los entrenamientos. Mientras están recibiendo información que no habían recibido antes, y la comparten con otros, de esa manera pueden crear conciencia".
El próximo taller gratuito está programado para las 5: 30-7: 45 p.m. el 14 de septiembre en la Biblioteca Pública del Condado de Johnson (Kansas), ubicada en 9875 W. 87th St. en Overland Park.
Para más información sobre los talleres, llame a Prieto en El Centro al (913) 677-0100 o envíe un correo electrónico a dprieto@elcentroinc.com.