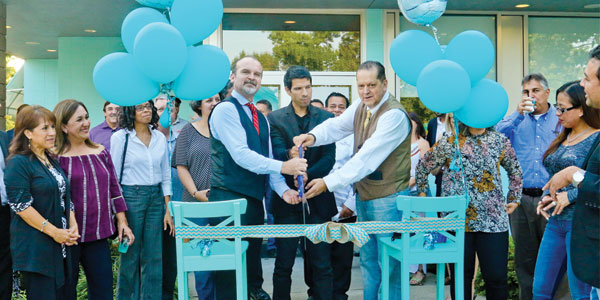 Fans of authentic Mexican cuisine might be disappointed in the typical presentation of Mexican dishes smothered in cheese or salsa – which is actually Tex-Mex food.
Alfonso Esqueda believes he can give those fans an authentic experience.
Esqueda owns CACAO Restaurante, located at 5200 W. 95th St. in Prairie Village, Kan. When customers first walk through its doors, they see a restaurant designed to display a modern Mexican style by a group of architects in Mexico, decorated with original Mexican weaving and baskets. Moreover, the menu includes traditional dishes prepared with an authentic style.
"When people think about Mexican food, they think about tacos, burritos and enchiladas," Esqueda said. "Not only do we offer those dishes; … (but) when our customers ask for them, they will get the best tacos, enchiladas or burritos."
Some popular items include jicama tacos, featuring tortillas made out of jicama. Other favorites include huitlacoche or grasshopper tacos. The menu features dishes from all parts of Mexico, such as Yucatan, Puebla and Mexico City.
Since CACAO opened in March 2016, the public has enjoyed the dining experience there, Esqueda said.
"The restaurant has been well-received by our customers," Esqueda said. "People in Prairie Village like to try new dishes and educate themselves about where (the dishes) came from."
However, the first year was difficult because the restaurant offered a new concept of a Mexican restaurant, according to Esqueda. But after a year-and-a-half in business, Esqueda envisions opening a new location in 2018 and reaching new audiences.
To learn more about CACAO, call (913) 296-7485 or visit https://www.cacaokc.com/.
---
Restaurante mexicano trae comida moderna y auténtica a la zona de KC
Story by Melissa Arroyo and photos by Michael Alvarado
Los aficionados de la auténtica cocina mexicana podrían quedar decepcionados con la típica presentación de platos mexicanos sofocados con queso o salsa – que es en realidad comida Tex-Mex.
Alfonso Esqueda cree que puede dar a los aficionados una experiencia auténtica.
Esqueda es propietario del CACAO Restaurante, ubicado en 5200 W. 95th St. en Prairie Village, Kan. Cuando los clientes primero caminan a través de sus puertas, ven un restaurante diseñado para exhibir un estilo mexicano moderno por un grupo de arquitectos en México, con tejidos y cestos. Además, el menú incluye platos tradicionales elaborados con un estilo auténtico.
"Cuando la gente piensa en comida mexicana, piensa en tacos, burritos y enchiladas", dijo Esqueda. "No sólo ofrecemos esos platos; … pero cuando nuestros clientes lo pidan, obtendrán los mejores tacos, enchiladas o burritos ".
Algunos artículos populares incluyen tacos de jícama, donde la tortilla está hecha de jícama. Otros favoritos incluyen huitlacoche o tacos de chapulines. El menú ofrece platos de todas partes de México, como Yucatán, Puebla y la Ciudad de México.
Desde que CACAO abrió en marzo de 2016, el público ha disfrutado de la experiencia gastronómica allí, dijo Esqueda.
"El restaurante ha sido bien recibido por nuestros clientes", dijo Esqueda. "La gente en Prairie Village gusta probar nuevos platos y educarse sobre dónde vinieron (los platillos) ".
Sin embargo, el primer año fue difícil porque el restaurante ofrecía un nuevo concepto de restaurante mexicano, según Esqueda. Pero después de un año y medio en los negocios, Esqueda prevé abrir una nueva ubicación en el 2018 y llegar a nuevos públicos.
Para obtener más información sobre CACAO, llame al (913) 296-7485 o visite https://www.cacaokc.com/.