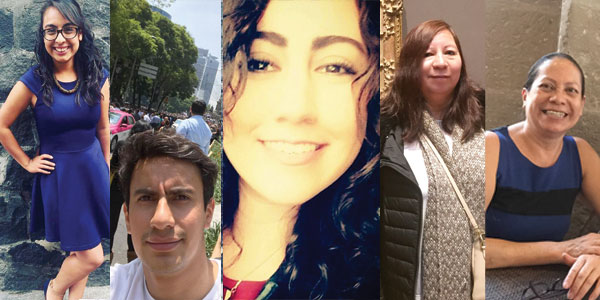 By Tere Siqueira
On Tuesday afternoon (Sept. 19), a powerful earthquake hit Mexico. At press time, more than 40 buildings had collapsed and the death toll was reported to be more than 200 people.
To get a sense of the mood in Mexico, Dos Mundos asked some Mexico City residents about how they lived through the earthquake. Here are their answers:
"I was driving from downtown to my house – and I thought that I had a flat tire, because my car started shaking. Then, some light transformers around me began to explode. I stopped the car. There were people screaming and running. I waited until the end of the earthquake. Then I drove again – and on my way home, there were buildings (that had) collapsed."
– Regina Sanchez –
"I was in … school. The building is very old. So the ceiling started falling. Everyone left their things in the classroom and we started trying to go out. But there … (were) a lot of people and we couldn't walk. I felt everything falling around me. We got to go out of the building before it collapsed. I spent all day trying to get home, because my wallet was left in the building."
– Sandra Marin –
"Living (through) this earthquake was one of the most … (stressful) situations of all my life. I was in a mall and I felt so hopeless. Three workers from the store and … (I) took hands and started praying. Thank … God we got … out. Then, the first thing I did was go back home to make sure all my family was safe."
– Leticia Jimenez –
"I was in a building (located) on one of the most important avenues in the city – Reforma. The alarms didn't work. I started feeling that everything was shaking. Then, everything started to fall. When we realized what was happening, we started to go downstairs. The walls were falling around me. That minute, (I) was full … (of) adrenaline like no other moment of my life."
– Ricardo Suarez, Mexico City –
"I was working in a big building when the earthquake started. Everyone went downstairs. I was praying all the way down. I thought that the building was going to collapse. I didn't have a way to talk to my family, so everyone spent all day worried. I walked from my work to home, around 15 kilometers, because the subway and the transportation system … (weren't) working."
– Marisela Jimenez, Mexico City –
---
Conversaciones en la calle: Terremoto en México
El martes por la tarde (19 de septiembre), un poderoso terremoto golpeó a México. En la época de la prensa, más de 40 edificios se habían derrumbado y el número de víctimas era de más de 200 personas.
Para tener una idea del estado de ánimo en México, Dos Mundos preguntó a algunos residentes de la Ciudad de México sobre cómo vivieron el terremoto. Aquí están sus respuestas:
"Yo estaba manejando desde el centro hacia mi casa – y pensé que tenía un neumático desinflado, porque mi coche comenzó a temblar. Entonces, algunos transformadores de luz a mi alrededor comenzaron a explotar. Paré el coche. Había gente gritando y corriendo. Esperé hasta el final del terremoto. Luego volví a conducir – y en el camino a mi casa, había edificios que se habían derrumbado. "
– Regina Sánchez –
"Estaba en la escuela. El edificio es muy antiguo. Así que el techo comenzó a caer. Todos dejaron sus cosas en el salón y empezamos a intentar salir. Pero había mucha gente y no podíamos caminar. Sentí todo caer a mi alrededor. Teníamos que salir del edificio antes de que se derrumbara. Pasé todo el día tratando de llegar a mi casa, porque mi cartera se había quedado en el edificio.
– Sandra Marin –
"Vivir este terremoto fue una de las situaciones más estresantes de toda mi vida. Estaba en un centro comercial y me sentía tan desesperada. Tres trabajadoras de la tienda y yo nos tomamos de las manos y comenzamos a rezar. Gracias a Dios logramos salir. Entonces, lo primero que hice fue volver a casa para asegurarme de que toda mi familia estaba a salvo. "
– Leticia Jimenez –
"Estaba en un edificio ubicado en una de las avenidas más importantes de la ciudad – Reforma. Las alarmas no funcionaron. Empecé a sentir que todo se movía. Entonces, todo se empezó a caer. Cuando nos dimos cuenta de lo que estaba sucediendo, empezamos a bajar. Las paredes se estaban cayendo a mi alrededor. Ese minuto, estuvo lleno de adrenalina como ningún otro momento de mi vida. "
– Ricardo Suárez, Ciudad de México
"Estaba trabajando en un edificio alto, cuando comenzó el terremoto. Todos bajaron. Estaba rezando todo el camino. Pensé que el edificio iba a colapsar. No tenía una manera de hablar con mi familia, así que todo el mundo pasó todo el día preocupado. Caminé de mi trabajo a casa, a unos 15 kilómetros, porque el metro y el sistema de transporte no funcionaban".
– Marisela Jimenez, Ciudad de México –