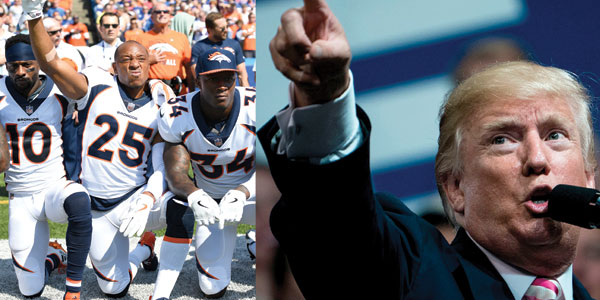 Commentary by Dermidio Juez-Perez
Since the 2016 NFL season, NFL players have exercised their freedom of speech multiple times to protest injustice and racial discrimination in America. 
During Week 3 of the current NFL season, the protests became something else: a massive show of disapproval of President Trump and his administration.
Instead of taking a knee during the playing of the national anthem, as many players have done, most NFL players opted to show unity by locking arms. The displays of unity were in response to comments made on Sept. 22 by Trump, who called for NFL owners to fire any "son of a b—-" who disrespects the American flag. And on Sunday morning (Sept. 24), President Trump slammed the league's ratings and restated that players should be fired or suspended for such protests. 
"Why would the American president waste his time by continuing to attack the NFL and its players?" you might wonder. "And why is President Trump saddened by TV ratings, instead of being saddened by the natural disasters that are affecting the lives of millions of people?"
The easy answer is that, unfortunately, his support base thrives on any drama and war of words the president starts with anyone who's different than them. However, the real reason is because Trump wants to create distractions. 
While much of America is focused on Trump's attacks toward famous athletes and other celebrities, there are serious matters taking place in his administration. Recently, for instance, it was revealed that the special counsel investigating Russia's influence on the 2016 presidential election is focused on Trump and his actions in firing former FBI Director James Comey and meeting with top Russian officials days later in the Oval Office. Additionally, Republicans are failing yet again at repealing and replacing Obamacare. 
Last but not least, late Sunday, America was made aware that senior White House strategist Jared Kushner, Trump's son-in-law, had used his private email address to communicate with other administration officials. Didn't Trump and his support base want to imprison Hillary Clinton for doing the same thing?
_________________________________________________________________________________
Crear distracción: ¿Por qué Trump crea drama y peleas con celebridades?
Desde la temporada pasada de la NFL, los jugadores han ejercido su libertad de expresión varias veces para protestar contra la injusticia y la discriminación racial en Estados Unidos.
Durante la tercera semana de la actual temporada de la NFL, las protestas se convirtieron en algo más: una muestra masiva de desaprobación del presidente Trump y su administración.
En lugar de arrodillarse durante el himno nacional, como muchos jugadores han hecho anteriormente, esta semana la mayoría de los jugadores de la NFL optaron por mostrar unidad al unirse de los brazos. Las exhibiciones de unidad fueron en respuesta a los comentarios hechos el 22 de septiembre por Trump, quien pidió a los propietarios de los clubes de la NFL que despida a todos eso "hijo de un ****" que desprecian la bandera estadounidense. Y el domingo por la mañana (24 de septiembre), el presidente Trump criticó las calificaciones de la liga y reiteró que los jugadores deberían ser despedidos o suspendidos por tales protestas.
"¿Por qué el Presidente estadounidense pierde tanto tiempo atacando a la NFL y a sus jugadores?", Se preguntarán. "¿Y por qué el presidente Trump está entristecido por los ratings de la televisión, en lugar de estar entristecido por los desastres naturales que están afectando la vida de millones de personas?"
La respuesta fácil es que, por desgracia, su base de apoyo se nutre de cualquier drama y guerra de palabras que el Presidente comience con cualquiera que sea diferente de ellos. Sin embargo, la verdadera razón es porque Trump quiere crear distracciones.
Mientras gran parte de América está enfocada en los ataques de Trump hacia los atletas y otras celebridades, hay asuntos serios que están tomando lugar en su administración. Recientemente, por ejemplo, se reveló que el consejo especial investigando la influencia de Rusia en las elecciones presidenciales del 2016 están actualmente estudiando las acciones de Trump y el despido del ex director del FBI, James Comey, y el por qué de la reunión con altos funcionarios rusos días después en la Oficina Oval. Además, los republicanos fallaron una vez más en la revocación y la sustitución de Obamacare.
Por último, pero no menos importante, el domingo se informó que el estratega de la Casa Blanca Jared Kushner, el yerno de Trump, había usado su dirección de correo electrónico privada para comunicarse con otros funcionarios de la administración. ¿No fue Trump y su base de apoyo quienes querían encarcelar a Hillary Clinton por hacer lo mismo?