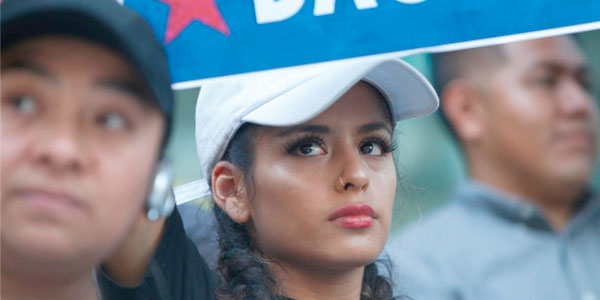 By Tere Siqueira
With the Deferred Action for Childhood Arrivals (DACA) program scheduled to end unless Congress finds a way to save it, 622,170 "Dreamers" who were born in Mexico and came to the United States as the children of undocumented immigrants are concerned for their safety.
The Mexican government hopes to ease their minds.
According to the newspaper El Universal, the Mexican Ministry of Foreign Affairs announced in a recent statement that Mexico would welcome "with open arms" the Dreamers returning to Mexico. Mexico also is working on initiatives to integrate Dreamers into Mexican society. Moreover, Mexico plans to cover their legal representation for deportation proceedings.
A few of Mexico's other initiatives to assist Dreamers include establishing a credit program in the United States and Mexico, scholarships to study in Mexico and other countries, access to public health insurance and offers for special jobs.
In addition, Geronimo Gutierrez, Mexican ambassador to Washington, is lobbying Congress to find a way to save the program. Recently, Gutierrez has sent letters to Congress stressing the importance of DACA to the United States.
Former Mexican President Vicente Fox also has voiced his support for DACA. Recently, Fox tweeted: "@realDonaldTrump ending DACA is on the top of the vilest acts you've pulled off. You're destroying the legacy of greater men before you."
The tweet went viral.
Fox isn't the only former leader to use social media to voice support for DACA. Former U.S. Vice President Joe Biden posted the following message on Twitter: "Brought by parents, these children had no choice in coming here. Now they'll be sent to countries they've never known. Cruel. Not America."
Social media is being used in other ways to try to help all Dreamers. Attorneys are giving free advice to Dreamers via social media platforms. And some influential personalities are using social media to encourage U.S. citizens to contact their elected representatives.
To guide efforts to pressure elected officials to pass legislation that protects DACA recipients from deportation, a tool kit has been created by the Center for American Progress that focuses on swing votes in the House and Senate. In addition, FWD.us offers a tool to connect people quickly via phone to Congress.
---
Con la finalización de DACA pendiente, México trabaja para ayudar a los "Dreamers"
Con el programa de Acción Diferida para Llegados en la Infancia (DACA) programado para terminar a menos de que el Congreso encuentre una manera de salvarlo, 622,170 "Dreamers" que nacieron en México y vinieron a Estados Unidos como hijos de inmigrantes indocumentados están preocupados por su seguridad.
El gobierno mexicano espera brindarles alivio.
Según el diario El Universal, el Ministerio de Relaciones Exteriores de México anunció en un reciente comunicado que México recibiría "con los brazos abiertos" a los "Dreamers" que regresaran a México. México también está trabajando en iniciativas para integrar a los dreamers en la sociedad mexicana. Además, México planea cubrir su representación legal para los procedimientos de deportación.
Dentro de algunas de las otras iniciativas de México para ayudar a los dreamers están el establecimiento de un programa de crédito en Estados Unidos y México, becas para estudiar en México y otros países, acceso a seguros de salud pública y ofertas para trabajos especiales.
Además, Geronimo Gutiérrez, embajador de México en Washington, está presionando al Congreso para encontrar una manera de salvar el programa. Recientemente, Gutiérrez ha enviado cartas al Congreso destacando la importancia de DACA para los Estados Unidos.
El ex presidente mexicano Vicente Fox también ha expresado su apoyo a DACA. Recientemente, Fox twitteó: "@realDonaldTrump finalizar DACA esta arriba como uno de los actos más viles que has realizado. Estás destruyendo el legado de grandes hombres que han estado antes que tú."
El tweet se volvió viral.
Fox no es el único ex líder en utilizar los medios de comunicación social para apoyar la voz de DACA. El ex vicepresidente estadounidense Joe Biden publicó el siguiente mensaje en Twitter: "Traídos por sus padres, estos niños no tuvieron la opción de decidir el venir aquí. Ahora serán enviados a países que no conocen. Cruel. Esto no es América."
Las redes sociales se están utilizando de otras maneras para tratar de ayudar a todos los dreamers. Los abogados están dando asesoramiento gratuito a dreamers a través de plataformas de redes sociales. Y algunas personalidades influyentes las están utilizando para alentar a los ciudadanos estadounidenses a ponerse en contacto con sus representantes electos.
Guiando los esfuerzos para presionar a los funcionarios electos para que aprueben una legislación que proteja a los receptores de la DACA de la deportación, el Centro para el Progreso Americano ha creado un kit de herramientas que se centra en los votos estratégicos en la Cámara y el Senado. Además, FWD.us ofrece una herramienta para conectar a las personas rápidamente vía teléfono con el Congreso.