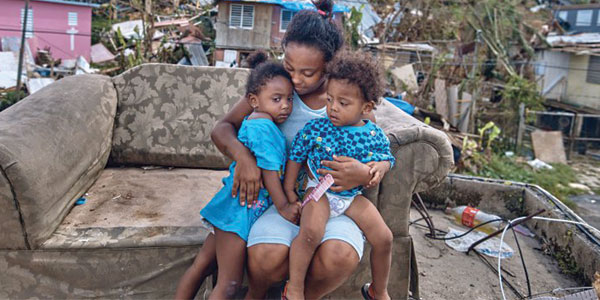 By Chara
In September, Hurricane Maria struck Puerto Rico, leaving thousands of victims in its wake.
In mid-October, thousands of Puerto Ricans are continuing to struggle in dealing with the aftermath of Hurricane Maria.
According to news reports, more than 90 percent of the island has no power and people are using car batteries to charge their electronic devices. At press time, it remained unclear when full power would be restored.
"We have established, right at the beginning of this week, we want to have 10 percent of the energy … (generator services working) in Puerto Rico. Now, we're up to 10.6 percent," Puerto Rican Gov. Ricardo Rossello told National Public Radio. "And our expectation is, within the next month, to have 25 percent (working)."
Various forms of data show that restoring power and electricity to Puerto Rico will cost more than $5 billion.
In addition, many Puerto Ricans need medicine. Many other Puerto Ricans don't have enough food. Moreover, there are lines to get gasoline.
"They have to be in line for over six hours, and it is not good," said Hector Martinez, a Puerto Rican residing in Connecticut. "We need … people's help."
Martinez just returned to the mainland United States from Puerto Rico, where he stayed with his family for three weeks.
"At the beginning, (it) was chaotic," he said. "But little by little, things are getting better."
Martinez described the aftermath of the hurricane as horrible and devastating.
"It is very sad," he said. "Our country is destroyed, and we can't do anything to change it. I got back to the United States – and now, I'll be sending stuff for my family there."
Several celebrities and athletes have united in their efforts to collect money and gather resources to send the island, including Ricky Martin, Roselyn Sanchez, Yandel, Wisin and Prince Royce. On other hand, U.S. President Donald Trump has been criticized for his lack of commitment toward helping Puerto Rico.
Recently, Trump visited the island. As multiple news sources reported, Trump stated that the destruction on the island wasn't as bad as that caused by Hurricane Katrina. In addition, Trump was recorded throwing paper towels to people.
"I don't even want to think about the things he (Trump) said because it makes me feel very upset," Martinez said.
_____________________________________________________________________________________
Puerto Rico continúa luchando después del huracán María
En el mes de septiembre, el huracán María asestó Puerto Rico, dejando a miles de damnificados a su paso.
A mediados de octubre, miles de puertorriqueños siguen luchando para enfrentar las secuelas del huracán María.
De acuerdo con los reportes de noticias, más del 90 por ciento de la isla no tiene electricidad y la gente está utilizando baterías de carros para recargar sus aparatos electrónicos. En el momento de prensa, sigue incierto cuando se restaurará la electricidad.
«Hemos establecido, al inicio de esta semana, queremos tener el 10% de la electricidad… (funcionando los servicios de generadores) en Puerto Rico. Ahora, estamos hasta un 10.6 por ciento», dijo el gobernador de Puerto Rico, Ricardo Rosello a la Radio Pública Nacional. «Nuestra expectativa es, que dentro del siguiente mes, tengamos el 25 por ciento funcionando».
Diferentes formas de datos demuestran que restaurar la energía y electricidad en Puerto Rico costará más de $5 mil millones.
Además, muchos puertorriqueños necesitan medicinas. Muchos otros puertorriqueños no tienen suficiente comida, además hay largas líneas para conseguir gasolina.
«Tenemos que hacer fila por más de seis horas, y eso no es bueno», dijo Héctor Martínez, un puertorriqueño que reside en Connecticut. «Necesitamos la ayuda de la gente».
Martínez acaba de regresar a Estados Unidos proveniente de Puerto Rico, donde estuvo con su familia por tres semanas.
«Al inicio, fue caótico, pero poco a poco, las cosas están mejorando», dijo él.
Martínez describió la secuela del huracán como horrible y devastadora.
«Es muy triste. Nuestro país está destruido y no podemos hacer nada para cambiarlo. Regresé a Estados Unidos, y ahora enviaré cosas para mi familia que está allí».
Varias celebridades y atletas han unido sus esfuerzos para colectar dinero y reunir recursos para enviar a la isla, entre ellos Ricky Martin, Roselyn Sánchez, Yandel, Wisin y Prince Royce. Por otro lado, el presidente de Estados Unidos Donald Trump ha sido criticado por su falta de compromiso para ayudar a la isla.
Recientemente, Trump visitó la isla. Como lo reportaron varias fuentes de noticias, Trump declaró que la destrucción de la isla no fue tan mala como la que sucedió con el huracán Catarina. Además, se filmó a Trump lanzando rollos de toallas de papel a la gente.
«Ni siquiera quiero pensar sobre las cosas que dijo Trump porque me molesta mucho», dijo Martínez.