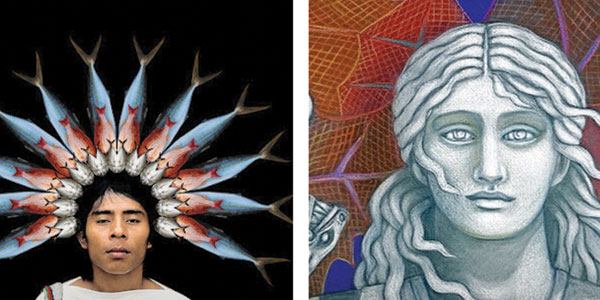 By Tere Siqueira
Company helps launch online exhibit honoring Latino art, culture, history
To celebrate the influence of Latinos on American life, Google has partnered with more than 35 cultural institutions to create the largest digital collection of Latino art, culture and history in the United States.
Debuting on Sept. 7, the exhibit arrived online shortly before the celebration of National Hispanic Heritage Month (Sept. 15-Oct. 15). The collection of 2,5000 paintings, sculptures, photographs and murals ranges from ancient artifacts to contemporary street art.
There are various sections to explore in the digital collection. The collection allows viewers to stand virtually in iconic locations, including centers of Latino culture and explore hidden details captured by an art camera. In addition, the section on Latinos in news and entertainment features stories, photos and interviews with iconic actors, activists and athletes.
In a story for Forbes magazine, Jesus Garcia, head of Hispanic communications for Google and YouTube, called the collection "a labor of love for many Googlers and partner institutions." Garcia also said it was a project "that was more than a year in the making and took a small army to help digitize the 2,500 new artworks and curate 69 new exhibits."
To view the exhibit, visit g.co/uslatinocultures.
---
Google apoya la celebración del Mes Nacional de la Herencia Hispana
La compañía ayuda a lanzar una exposición en línea que reconoce el arte, la cultura y la historia latina
Para celebrar la influencia de los latinos en la vida americana, Google se ha asociado con más de 35 instituciones culturales para crear la mayor colección digital de arte, cultura e historia latina en Estados Unidos.
Debutando el 7 de septiembre, la exhibición llegó poco antes de la celebración del Mes Nacional de la Herencia Hispana (del 15 de septiembre al 15 de octubre). La colección de 2,5000 pinturas, esculturas, fotografías y murales va desde artefactos antiguos hasta arte callejero contemporáneo.
Existen varias secciones para explorar la colección digital. La colección permite a los espectadores estar de manera virtual en lugares icónicos, incluyendo centros de cultura latina y explorar detalles ocultos capturados por una cámara de arte. Además, la sección sobre los latinos destacados en noticias y entretenimiento cuenta con historias, fotos y entrevistas con actores, activistas y atletas icónicos.
En una historia para la revista Forbes, Jesús García, director de comunicación hispana de Google y YouTube, llamó a la colección "un trabajo de amor para muchos Googlers e instituciones asociadas". García también dijo que era un proyecto "que tardó más de un año en montarse y tomó un pequeño ejército para ayudar a digitalizar las 2,500 obras de arte nuevas y custodiar las 69 nuevas exposiciones".
Para ver la exposición, visite g.co/uslatinocultures.