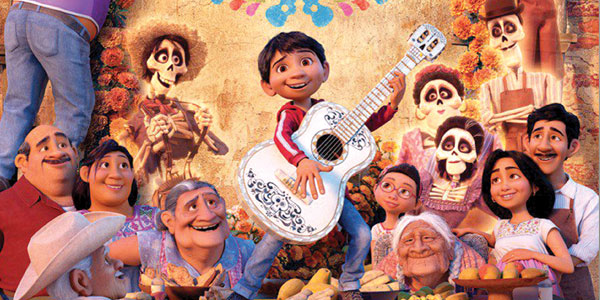 By Tere Siqueira
As part of its ongoing diversity push, Walt Disney Pictures is about to release its first film with an all-Latino voice cast.
The movie is "Coco," produced by Disney's Pixar Animation Studios. Set in Mexico during the Dia de los Muertos (Day of the Dead) holiday, the computer animation film centers on Miguel, a 12-year-old aspiring musician who ends up in the Land of the Dead.
Although "Coco" is Disney's first all-Latino movie, it isn't the first Disney film to feature Hispanic characters. Other Hispanic characters in recent Disney TV and theatrical film productions have included the following:
*Cruz Ramirez: One of the main characters in "Cars 3," Cruz Ramirez is a yellow car with a bright, bubbly personality. The Latina car – voiced by Mexican-American comedian Cristela Alonzo – tries to train Lighting McQueen to win his next big race.
*Elena of Avalor: The main character from the TV series of the same name, Elena of Avalor is Disney's first Latina princess. Originally known as Elena Castillo Flores, the young Latina saves her magical kingdom from an evil sorceress and learns to rule as its princess. The series features Aimee Carrero as the voice of Elena.
*Emperor Kuzco: A spoiled young emperor of the Inca Empire who gets transformed into a llama, Emperor Kuzco is the protagonist of "The Emperor's New Groove." However, the voice of the main character of the 2000 animated film wasn't provided by a Latino. Comedian David Spade did the voicework.
________________________________________________________________________________
Disney continúa impulsando la diversidad con nueva película animada
Como parte de su constante impulso a la diversidad, Walt Disney Pictures está a punto de lanzar su primera película con un elenco de voz totalmente latino.
La película es "Coco", producida por Disney's Pixar Animation Studios. La historia tiene lugar en México durante la festividad del Día de los Muertos, animada por computadora se centra en Miguel, un aspirante a músico de 12 años que termina en la tierra de los Muertos.
Aunque "Coco" es la primera película de Disney con sólo latinos, aunque no es la primera película en la que de Disney presente personajes hispanos. Dentro de otros personajes latinos en recientes producciones televisivas y teatrales de Disney incluyen los siguientes:
* Cruz Ramírez: Uno de los personajes principales en "Cars 3", Cruz Ramírez es un auto amarillo con una personalidad brillante y burbujeante. El automóvil latino, con la voz de la comediante mexicano-estadounidense Cristela Alonzo, intentará entrenar a el Rayo McQueen para ganar su próxima gran carrera.
* Elena de Avalor: El personaje principal de la serie de televisión del mismo nombre, es la primera princesa latina de Disney. Originalmente conocida como Elena Castillo Flores, la joven latina salva su reino mágico de una hechicera malvada y aprenderá a gobernar como su princesa. La serie presenta a Aimee Carrero en la voz de Elena.
* Emperador Kuzco: Un emperador joven mimado del Imperio Inca que se transforma en llama, el emperador Kuzco es el protagonista de "Las locuras del emperador". Sin embargo, la voz del personaje principal de la película de animación del 2000 no fue proporcionada por un latino. El comediante David Spade le dio voz al personaje.