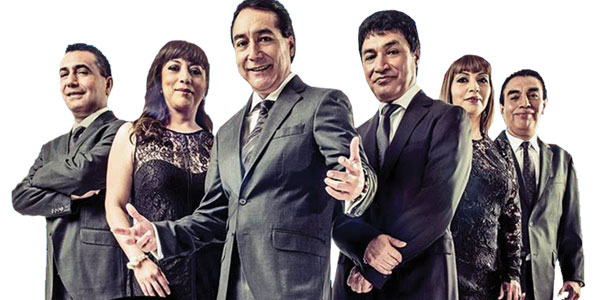 By Tere Siqueira
Los Angeles Azules is making a tour stop in the Kansas City area.
As part of its U.S. tour, the Mexican group will perform this Sunday (Oct. 22) at CrossroadsKC, located at 417 E. 18th St. in Kansas City, Mo. Making Movies and Los B-ok also will perform. Making Movies is a Kansas City, Mo.-based band that plays bilingual music, set to Afro-Latino rhythms.
Officially, Los Angeles Azules began performing publicly during the early 1980s. The group was formed by the Mejia Avante brothers in the Iztapalapa section of Mexico City. Following their mother's advice, the siblings got into the music business to pay for their studies.
The group went on to pioneer the "romantic cumbia" style and perform with some of Latin music's biggest acts. On the band's successful "De Plaza en Plaza" album, for example, Los Angeles Azules' collaborators include Pepe Aguilar, Miguel Bose and Gloria Trevi.
Tickets are $34 for general admission, $48 for bleacher seats and $81.50 for VIP section seats. In addition, special VIP table-private section ticket packages are available for $850. The private section package includes 10 VIP venue tickets, free parking, private entry and access to the front row. Admission is free for ages 12 and younger.
Admission for the all-ages show begins at 5 p.m. Sunday, with showtime at 6. For more information, visit ticketfly.com.
________________________________________________________________________________
Los Ángeles Azules serán el acto principal de concierto en CrossroadsKC
Los Ángeles Azules están haciendo una parada en el área de Kansas City.
Como parte de su gira por los Estados Unidos, el grupo mexicano se presentará este domingo (22 de octubre) en CrossroadsKC, ubicado en el 417 E. de la calle 18 en Kansas City, Mo. Making Movies y Los B-ok también se presentarán. Making Movies es una banda de Kansas City, basada en Mo. que toca música bilingüe, ambientada en ritmos afro-latinos.
Oficialmente, Los Ángeles Azules comenzaron a actuar públicamente durante la década de 1980. El grupo fue formado por los hermanos Mejía Avante en la zona de Iztapalapa en la Ciudad de México. Siguiendo el consejo de su madre, los hermanos se metieron en el negocio de la música para poder pagar sus estudios.
El grupo se convirtió en el pionero del estilo "cumbia romántica" y se ha presentado con algunos de los actos más grandes de la música latina. En el exitoso álbum "De Plaza en Plaza" de la banda, por ejemplo, dentro de los colaboradores de Los Ángeles Azules están Pepe Aguilar, Miguel Bose y Gloria Trevi.
Los boletos cuestan $34 para la entrada general, $48 los asientos en las gradas y $81.50 los asientos de la sección VIP. Además, hay paquetes especiales de boletos VIP para una zona privada que están disponibles por $850. El paquete de la zona privada incluye 10 entradas VIP para el evento, estacionamiento gratuito, acceso a la primera fila y una entrada privada. La entrada es gratuita para niños de 12 años o menos.
La entrada de este espectáculo disponible para todas las edades comienza a las 5 p.m. del domingo y el concierto dará inicio a las 6. Para más información, visite ticketfly.com.