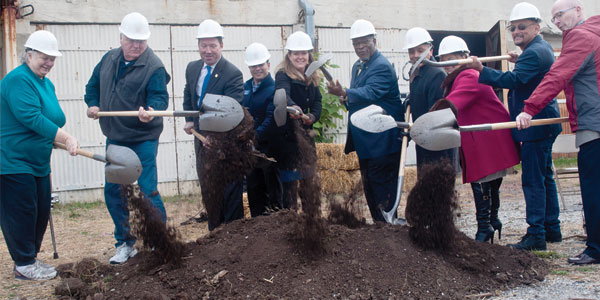 In 2009, the Hispanic Economic Development Corporation purchased a vacant warehouse in Kansas City's Westside neighborhood – at the request of the community – with the intent of preserving and sustaining the neighborhood.
In September 2017, HEDC made a major leap towards its earlier goal, with the award of a $1.6 million grant from the US Department of Commerce's Economic Development Administration (EDA). The EDA's investment will support the construction of a new small business incubator/accelerator at the Jarboe Property – referred to as the Center for Urban Enterprise (CUE)
CUE will offer resources to the Kansas City area's underserved entrepreneurs (coworking space, technical assistance to small businesses, technology resources and training, and more); anchored by five (5) state-of-the-art commercial kitchens that will provide rent-by-the-hour space for food businesses in the start-up phase (acting as a commissary for new and existing businesses).
The purpose of CUE is to not only play a role in making Kansas City one of America's most entrepreneurial cities; but to also make it one of the most equitable and inclusive. The focus of the entrepreneur center will be on low-income minority entrepreneurs, for whom much of KC's entrepreneurial growth has left behind. The 18,000 square-foot space (the existing 11,000 sq./ft. warehouse, and 7,000 new expanded space) will offer these underserved entrepreneurs the opportunity to get access to the technical assistance training, and the state-of-the-art technology necessary to be competitive and grow their small businesses in Kansas City, and beyond.
Per its commitment to the EDA, HEDC is expecting to create a minimum of 90 new jobs within the first 5 years of CUE's operations.
Since tracking data in 2006, HEDC has served more than 3,300 individuals; starting and sustaining more than 550 businesses in the area.
To learn more about HEDC visit kchedc.org
Goundbreaking event; 2720 Jarboe Street, KCMO 64108 held on Monday, November 6, 2017 at 9am.
---
HEDC, inicia la construcción de Center for Urban Enterprise
En el 2009, la Corporación de Desarrollo Económico Hispano compró un almacén en el vecindario Westside de Kansas City, a pedido de la comunidad, con la intención de preservar y mantener el vecindario.
En septiembre del 2017, HEDC dio un gran salto hacia su objetivo anterior, con la concesión de un premio de $ 1.6 millones de la Administración de Desarrollo Económico (EDA) del Departamento de Comercio de EE.UU. La inversión de EDA apoyará la construcción de una nueva incubadora/ aceleradora de pequeñas empresas en Jarboe Property, conocida como el Centro para la Empresa Urbana (CUE).
CUE ofrecerá recursos a los empresarios desatendidos del área de Kansas City (espacios de trabajo, asistencia técnica para pequeñas empresas, recursos tecnológicos, capacitación y más); rodeado por cinco (5) cocinas comerciales de vanguardia que brindarán espacio de alquiler por hora para las empresas de alimentos en la fase de puesta en marcha (actuando como un comisario para empresas existentes y nuevas).
El objetivo de CUE es no solo jugar un rol en hacer de Kansas City una de las ciudades más emprendedoras de los Estados Unidos; pero hacerla también una de los más equitativas e inclusivas. El foco del centro de emprendedores estará en los empresarios de minorías de bajos ingresos, para quienes gran parte del crecimiento empresarial de KC ha quedado atrás. El espacio de 18,000 pies cuadrados (el almacén existente de 11,000 pies cuadrados y 7,000 pies cuadrados de nuevos espacios expandidos) ofrecerá a estos empresarios desatendidos la oportunidad de acceder a la capacitación en asistencia técnica y la tecnología de última generación necesaria para ser competitiva y hacer crecer sus pequeñas empresas en Kansas City, y más allá.
Por su compromiso con la EDA, HEDC espera crear un mínimo de 90 nuevos empleos dentro de los primeros 5 años de las operaciones de CUE.
Desde el seguimiento de datos en el 2006, HEDC ha atendido a más de 3,300 personas; comenzando y sosteniendo más de 550 negocios en el área.
Para obtener más información sobre HEDC, visite kchedc.org