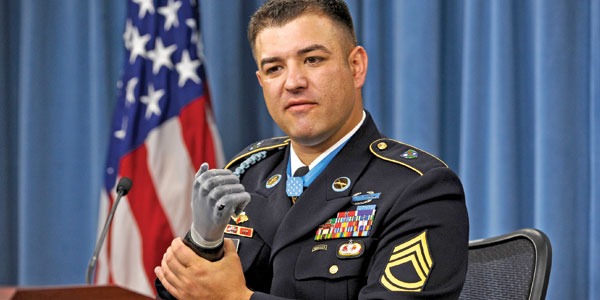 By Tere Siqueira
For generations, Latinos have served in the U.S. military.
Latinos have been awarded in various ways for their service. For example, 60 Latinos have received the nation's highest military distinction, the Medal of Honor.
Introduced during the Civil War, the Medal of Honor is awarded for valor during combat. Typically, it's presented by the president.
Some Latinos who've received the Medal of Honor have included the following:
*Cpl. Joseph H. De Castro: Castro was the first Hispanic American to receive the Medal of Honor, awarded for his role as a Union soldier in resisting Pickett's Charge during the Battle of Gettysburg. He was an 18-year-old serving in the 19th Massachusetts Infantry.
*Master Sgt. Mike Castaneda Pena (Peña in Spanish): Born in Corpus Christi, Texas, to a Mexican-American family, Pena served as an infantryman during World War II and the Korean War.
*Sgt. Santiago J. Erevia: Erevia was among 24 Army veterans who didn't receive the medal for years because of their minority backgrounds – a situation that was corrected in 2014 by the White House. A native Texan with Mexican heritage, Erevia served in the Vietnam War. He died in 2016.
*Lance Cpl. Jose Francisco Jimenez: Born in Mexico City, Jimenez enlisted in the Marine Corps after living in the United States for only two years. Killed in action at age 23 in Vietnam, he was awarded the medal after his death.
*Sgt. First Class Leroy A. Petry: Petry became the second living Medal of Honor recipient and the only Hispanic recipient from the War in Afghanistan. Petry, who has Mexican heritage, lost his right hand from a grenade while trying to save his fellow Army Rangers. He received the award from then-President Barack Obama.
---
Docenas de latinos están entre los ganadores de la Medalla de Honor
Por generaciones, los latinos han servido en el ejército de los EE.UU.
Los latinos han sido premiados de diversas maneras por su servicio. Por ejemplo, 60 latinos han recibido la distinción militar más alta del país, la Medalla de Honor.
Introducida durante la Guerra Civil, la Medalla de Honor se otorga por valor demostrado durante el combate. Por lo general, es presentada por el presidente.
Dentro de algunos de los latinos que han recibido la Medalla de Honor están los siguientes:
* Cpl. Joseph H. De Castro: Castro fue el primer hispanoamericano en recibir la Medalla de Honor, otorgada por su papel como soldado de la Unión al resistir el ataque de Pickett durante la Batalla de Gettysburg. Castro era un joven de 18 años en la 19º Infantería de Massachusetts.
* Maestro Sgt. Mike Castaneda Peña: Nacido en Corpus Christi, Texas, de una familia mexico-americana, Peña sirvió como soldado de infantería durante la Segunda Guerra Mundial y la Guerra de Corea.
* Sargento Santiago J. Erevia: Erevia estuvo entre los 24 veteranos del ejército que no recibieron la medalla durante años debido a su origen minoritario, una situación que fue corregida en el 2014 por la Casa Blanca. Nativo de Texas con herencia mexicana, Erevia sirvió en la Guerra de Vietnam y murió en el 2016.
* Lance Cpl. José Francisco Jiménez: Nacido en la Ciudad de México, Jiménez se alistó en la Infantería de la Marina después de vivir en los Estados Unidos por solo dos años. Asesinado en combate a los 23 años en Vietnam, recibió la medalla después de su muerte.
* Sargento First Class Leroy A. Petry: Petry se convirtió en el segundo receptor vivo de la Medalla de Honor y el único receptor hispano de la Guerra en Afganistán. Petry, quien tiene herencia mexicana, perdió su mano derecha a causa de una granada mientras trataba de salvar a sus compañeros Rangers del ejército. Recibió el premio por el entonces presidente Barack Obama.